The Wacky World of PETA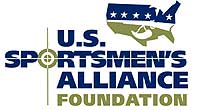 Columbus, OH –-(AmmoLand.com)- If the end of 2009 is any indication, 2010 looks like it will be just another year full of crazy "over the top antics" from PETA.
The U.S. Sportsmen's Alliance (USSA) reported last week on PETA's unauthorized use of First Lady Michelle Obama in an anti-fur ad at year end. Since then, PETA has removed the ad due to its controversial nature but that was by no means the only crazy thing PETA did to finish out 2009. Among other wacky stunts – it issued a call to make the Vatican go vegan and harshly criticized sportsmen for donating venison to local food banks.
PETA's vice president of policy and government affairs, Bruce Friedrich, who is coincidentally a Catholic, sent a letter on December 21 to Pope Benedict XVI urging him, "In light of the overwhelming scientific evidence showing that human consumption of animal products is degrading the environment we urge you to go vegan and only serve vegan meals in Vatican City and at all Papal events."

Friedrich went on to conclude that "Going vegan and serving only vegan meals at the Vatican would help ensure a bright future for all."
Meanwhile, in a Washington Post story that recounts how a Maryland deer hunter donates venison to food banks, Friedrich is quoted as saying, "I find it offensive that people would try to justify immoral behavior by claiming that something good comes out of it."
"Unless you consider it charitable to ask for vegan dishes in the Vatican, what exactly has PETA done for those in need?" asks Doug Jeanneret, USSA vice president for marketing. "As PETA continues to churn out its outrageous viewpoints, sportsmen are donating the fruits of their labor for a good cause without seeking media limelight to advance a radical agenda."
About:
The U.S. Sportsmen's Alliance Foundation protects and defends America's wildlife conservation programs and the pursuits – hunting, fishing and trapping – that generate the money to pay for them. The U.S. Sportsmen's Alliance Foundation is responsible for public education, legal defense and research. Its mission is accomplished through several distinct programs coordinated to provide the most complete defense capability possible. For more information about the U.S. Sportsmen's Alliance Foundation and its work, call (614) 888-4868 or visit its website, www.ussafoundation.org.