NRA Receives Heartfelt Thanks from Second Amendment March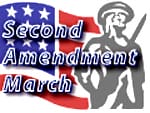 Delton MI – -(AmmoLand.com)- Today the Second Amendment March (SAM) publicly thanked the National Rifle Association (NRA) for its assistance in promoting the planed Second Amendment March through online announcements.
"This is a pivotal time not just for gun owners, but for the entire country. On behalf of the SAM, I wish to thank the NRA-ILA for agreeing to send out periodic reminders about the march to its members." said Skip Coryell, founder of the march.

"We understand that NRA has a lot on its plate and we fully acknowledge the value this relationship presents. I hope it's one which will blossom in the weeks and months to come."
The NRA-ILA announcement can be found online here.
Coryell, a US Marine Corps veteran, invoked the memory of Benjamin Franklin when he indicated that gun rights activists must hang together in these turbulent times.
"We're in a dangerous period right now in America, and it helps to have friends in high places," said Coryell.

"The entire SAM Board Of Directors wishes to extend our sincere gratitude to NRA for stepping forward and taking a leadership position on this event."
The Second Amendment March is a non-profit (501c4 pending) nonpartisan organization founded to petition our petition officials against establishing anti-gun legislation, regulations or other encroachments in the form of treaties, and to appeal for a reduction in anti-gun controls. Visit the Second Amendment March online at www.secondamendmentmarch.com for more information.
About:
The mission of the Second Amendment March is to galvanize the courage and resolve of Americans; to petition our elected officials against establishing anti-gun legislation; and to remind America that the Second Amendment is necessary to maintain our right to self defense. Visit: www.secondamendmentmarch.com