Consider Steve Schreiner For Your NRA Board Member Vote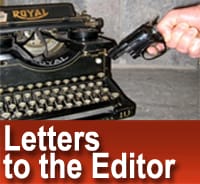 USA – -(AmmoLand.com)- Dear Firearm Owner; If you are a qualified voter for NRA Board Members I urge you to vote.
Now if you can accept a recommendation I would sincerely like you to consider voting for Steve Schreiner of Englewood Colorado to be on the NRA Board of Directors.
Many times we look at the ballot and have only what the candidates themselves write up in the Rifleman to judge how we might vote. And many times rather than take a chance on someone we don't know much about we just send in partially filled out ballots,  I have done that myself for many years, but here is a choice you need to know of.
I have personally known Steve Schreiner for 30 years. Never have I seen a guy so committed to protecting our Second Amendment Rights… never.
Over the past 30 years Schreiner has and still does go to all the gun shows he can in Colorado to set up Second Amendment/NRA displays and Steve donates huge amounts of his personal time and money to advocate for protecting our firearm rights at every opportunity!
Schreiner effectively lobbies in our capitol and tirelessly recruits people to protect our gun rights and join the NRA.
Schreiner has a solid background in the political machine, having been a Washington D.C. aide to a U.S. Congressman. Steve also earned a Bronze Star for Valor and the Silver Star in Nam (you don't "win" those hero awards, it is not a contest).
If you were to meet Steve you will find a dedicated, highly-intelligent, active guy with a funny sense of humor who does not want to compromise our founding father's well written Bill of Rights and the Second Amendment.
Steve is dedicated! We really do need people like him on the NRA board.
So if you have room on your NRA Ballot I urge you to vote for Steve Schreiner, he will prove to be very active on the NRA Board protecting our Second Amendment Rights and in the current climate the time is coming when we will need all the help we can get.
Thank You For Your Consideration, Jim Shults NRA Benefactor Member
Distinguished Rifleman Shults
Media Relations
, LLC