Second Amendment March's Skip Coryell Speaking at New Hampshire Liberty Forum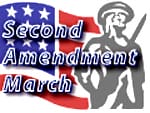 Nashua, New Hampshire –-(AmmoLand.com)- Second Amendment March Founder, Skip Coryell, will be speaking at the New Hampshire Liberty Forum in Nashua, New Hampshire this weekend along with such notable speakers as Judge Andrew Napalitano, Representative Dan Itse, and Jacob Hornberger.
When not speaking, Skip will be at the Second Amendment March booth spreading the word and signing copies of his books. Second Amendment March literature and merchandise will be for sale at the booth all weekend long.
For speaking times and a schedule of events go to www.freestateproject.org
This event is sponsored by the New Hampshire Free State Project. For more information on the event, go to www.freestateproject.com.
Come on out, support the march and meet the man who founded it. Also, many thanks to Lorin Conrad for volunteering to help run the Second Amendment March table.
About:
The mission of the Second Amendment March is to galvanize the courage and resolve of Americans; to petition our elected officials against establishing anti-gun legislation; and to remind America that the Second Amendment is necessary to maintain our right to self defense. Visit: www.secondamendmentmarch.com