Introducing the Rossi Wizard – The One Rifle That Does it All
Ingenious system allows the shooter to change to any barrel quickly…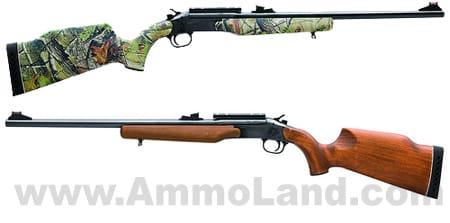 MIAMI, FL –-(AmmoLand.com)- The new Rossi Wizard's revolutionary stock design allows the user to shoot with every popular caliber imaginable, plus all shotgun gauges, two muzzleloaders, .22 rimfire and .22 rimfire magnum.
This ingenious system allows the shooter to transfer any barrel quickly and easily without tools. It is like having 18 rifles and shotguns in one. The Wizard is the year round solution for every hunting and shooting application – truly a gun for all seasons.
To start a Wizard collection simply choose a Wizard rifle, offered in .22-250, .223, .243, .270, .30-06 or .308 and then add other popular caliber barrels to the collection as desired. Rifle barrel options include .17 HMR, .22LR, .22 Mag., .22-250 Rem, .270 Win., .30-06 SPRG, .308 Win., .38-357 Mag., .44 Mag., .45-70 Gov. and 7.62×39. Muzzleloader barrel options include .45 and .50. Shotgun barrel options include .410 bore, 20 gauge and 12 gauge. The Wizard's barrel measures 23 inches with an overall length of 38.5 inches and weighs seven pounds.
The Wizard is also offered in a youth version with starter model available in .223, .243 or .308. The youth model barrel length measures 22 inches long, with an overall length of 36.5 inches and weighs 6.25 pounds.
Features for standard and youth models include cushioned recoil pad with spacer for reduced recoil, uniquely contoured Monte Carlo stock with curved cheek rest and fiber optic front sight for fast, easy target acquisition. Available in blued finish in either an attractive hardwood or camouflage stock with carbon steel barrel and receiver.
The Rossi revolution of firearm design and manufacture started with the founding of the company in 1889 by Amadeo Rossi. For the past 120 years, the tradition of innovation grew along with the company and the Rossi family. The Rossi name represents a piece of firearms history and a tradition of excellence.
In 2008, Rossi production was acquired by Forjas Taurus S.A. Rossi is the industry-leading manufacturer of single-shot, matched pairs, muzzleloaders, rifles and shotguns. The acquisition integrates perfectly with the quality of firearms currently produced by Taurus International and will expand the ability to produce quality firearms at reasonable prices as well as dedication to creating new and exciting Rossi products. Today, a Rossi firearm still features the same dedication and innovation in every firearm. Now, as part of Taurus International, Rossi looks forward to providing you with the next generation of great firearms.
The complete line of Rossi firearms features the exclusive Taurus Security System, which utilizes a key to lock the firearm and offers additional safety for youth. All Rossi firearms also incorporate a transfer bar mechanism and a manual safety on a single shot, break-open design in which the breech cannot be closed or opened if the hammer is cocked.
Rossi is proud to offer a free One-year NRA Junior Membership with the purchase of any Rossi youth model. It is recommended that children always be accompanied by an adult when shooting. For more information about Rossi Firearms, a Division of BrazTech International, visit www.rossiusa.com.