New Zippo Lighters Outdoor Line Combines Safety And Convenience
New Products and Time-Tested Performers Meet Needs of Today's Great Outdoors.
Bradford, Pennsylvania –-(Ammoland.com)- The new Outdoor Line from Zippo meets the fire and heat needs of today's outdoors enthusiasts with a combination of new products and proven performers.
New Emergency Fire Starter – Designed for the most rugged of outdoor situations, the new Emergency Fire Starter features a reliable flint-wheel ignition and rayon-made waxed, water-resistant tinder sticks for quick and easy fire starting.
With a rugged metal exterior, the Emergency Fire Starter's lid has a water-resistant o-ring seal to protect the tinder sticks. The suggested retail price is $19.95 with replacement waxed tinder sticks available in eight-unit packets at $4.95.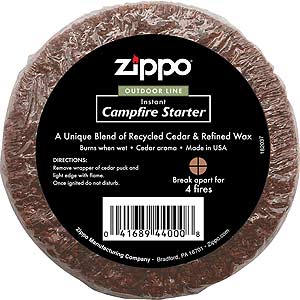 New Campfire Starter – Featuring a western red cedar aroma, the new Campfire Starter is a unique blend of compressed cedar saw dust and wax for quick lighting even in the wettest conditions.
Made of 100% all natural recycled materials, the back is scored for easy separation to start up to four fires. Lightweight and easy to pack, Campfire Starter has a suggested retail price of $1.49, making it ideal for camping, hiking, campfires as well as barbecues and fireplaces at home.
New Flexible Neck Utility Lighter – Ideal for getting flame to hard-to-reach places, the new Flexible Neck Utility Lighter is perfect in the great outdoors or around the house. Equipped with an advanced ignition system, wind-resistant dual flame technology, adjustable flame and fuel level-indicator, the Flexible Neck Utility Lighter is ergonomically designed.
The flexible extended neck is topped by a slim, powerful nozzle that easily fits all openings such as lanterns, grills and campfires. Available in Satin Silver or a rubberized flat black finish, the suggested retail price is $19.95.
Hand Warmer – The Zippo Hand Warmer is perfect for every chilly circumstance. Powered by Zippo Premium Lighter Fluid, the Hand Warmer produces more than 10 times the heat of traditional warmers.
The ultra-thin profile slides easily into pockets, gloves, pants and boots making it ideal for any outdoor activity. A built-in, easy-to-read temperature indicator signals when the platinum-catalyzed glass fiber burner has started heating. With a suggested retail value of $19.95, the Hand Warmer comes complete with a warming bag and handy filling cap.
Outdoor Utility Lighter – A time-tested performer on the Appalachian Trail or at the backyard barbecue, the Outdoor Utility Lighter offers an advanced ignition system, adjustable flame and fuel level indicator. With an ergonomically designed rubber grip, it offers a water-resistant cap, metal construction and carabineer clip and strap. There's even a built-in LED light bright enough to help you find your way.
With a suggested retail price of $24.95, the Outdoor Utility Lighter is fueled with Zippo premium butane fuel.
Windproof Lighter – The product that started it all, the Zippo Windproof Lighter remains the symbol for flame in the great outdoors. Due to the design of its windscreen and rate of fuel delivery, make it ideal for lighting fires even in the windiest of conditions. Its popularity is symbolized by the more than 450 units sold since its invention in 1932.
Available in a variety of finishes, suggested retail prices range from $15.95 for brushed chrome to $26.95 for the Remington Lossproof version.
To ensure long-life and sustainable use, all Zippo Outdoor Line products include the full range of accessories including butane fuel, lighter fluid, flints, wicks, tinder sticks, and hand warmer burners. Visit: www.zippo.com