Police Ordered to Return NH Dealer's Switchblade Inventory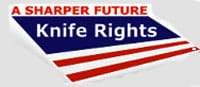 New Hampshire –-(Ammoland.com)- Abe Foote of Abe's Awesome Armaments in New Hampton, NH, who was an unfairly prosecuted victim of New Hampshire's former restrictions on switchblade sales, was reunited on Wednesday with some of the knives the police had seized.
Unfortunately, approximately one third of the knives seized by the police remain unaccounted for, having disappeared from the evidence room. An internal investigation has been launched by the County Prosecutor. Knife Rights attorney and Freedom's Point award winner Evan Nappen got the court order for the knives' return.
Nothing will ever truly compensate Abe for the miscarriage of justice he suffered between the unfair prosecution and a poor defense by his former attorney, but he can at least gain some satisfaction that he'll have 2/3's of his stock back just in time for Bike Week in New Hampshire and that the missing knives are being criminally investigated.
About:
Knife Rights. The first step to building an effective advocacy group is building the membership. Power comes from numbers. Knife Rights offers a range of Charter Memberships and there's one that will suit you perfectly. Invest a modest sum in A Sharper Future. JOIN NOW!
Encourage your friends to join Knife Rights and you can win a custom knife in our Member-Get-A-Member program, as well as free annual memberships.
Email: [email protected]