Ted Nugent Tied With Benoit Brothers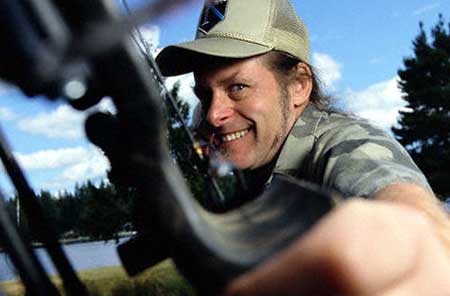 Vermont –-(AmmoLand.com)- With a week remaining in Outdoors Magazine's online poll Ted Nugent and the Benoit Brothers are running neck and neck when it comes to the public selecting their favorite hunting personality. Each has received a 23% rating.
Rounding out the Top-10 in the poll are Michael Waddell (13%), Charles Alsheimer (9%), Hal Blood (8%), Larry Weishuhn (8%), Ralph & Vicki Cianciarulo (7%), Tiffany Lakosky (7%), Bill Jordan, Dan Schmidt, and the Drury Brothers are all tied for 10th place with 5%.
Other names mentioned in the polls who have received less than 5% are: R.G. Bernier, Bob Foulkrod, Tom Miranda, Lee Lakosky, Neil Dougherty, Cindy Garrison, Toxey Haas, Cameron Hanes, Haley Heath, Bob Humphrey, Chris Bracket, Stan Potts & Dick Scorzafava.
"We are absolutely fascinated by the poll results so far," said James Austin, the president of Elk Publishing.

"Some of the names we though would surely be leading have received less than 5%, while others have done much better than anticipated. It is funny to see things like how Tiffany is blowing away Lee in the vote," he said.
The second half of the poll asks five questions directed at the way television portrays hunting. One of these questions is, "Do you buy hunting products that your favorite personality promotes?" Only 22% of the audience answered in a favorable way, while 64% said, "Occasionally, it is not one of my primary considerations." A surprising 14% answered "Never. Celebrity endorsement erode the product's credibility."
"Some of the comments are also spectacular," said Austin.

"I can't wait to print them in the next issue of Outdoors Magazine. They really support what we have suspected, that the American public wants to see real situations … only many of our readers have put it in a much more 'colorful' way."
There is still a week left for everyone to let their feelings be known. Click here to add your opinion to the Outdoors Magazine Poll.