Michael Mcintosh – A Friend Passes
By Tom Gresham
MANDEVILLE, LA – -(AmmoLand.com)- Michael McIntosh died last weekend.
Michael wrote for Shooting Sportsman, Sporting Classics, Double Gun Journal, and other magazines.
He wrote more than two dozen books. A beautiful writer, Michael loved double guns and wingshooting with the same passion he showed for life with. He was 66. I first met Michael almost 40 years ago in Missouri.
I was still a student at Mizzou, and he was barely older. We fished for trout. Through the years Michael became a giant in the world of wingshooting and especially the minutia of double guns.
His books are simply wonderful. Just this past week I've been reading (for the fourth or fifth time) Shotguns and Shooting, a delightful, simple, and easy to read treatment. McIntosh's writing was influenced by that of John Madson, who may be the finest writer of outdoor tales we've ever had. John didn't do it with flourishes or tangled syntax, but with the simple, declarative sentence. It was in reading Madson's work that I learned the strength of verbs and the weakness of adjectives.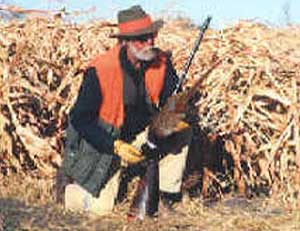 Michael excelled at spare verbiage. Just a few words. Always the right ones. Both Madson and McIntosh were gentlemen. Michael was…complex…and flawed. Why is it that great writers so often are? He was an incomparable companion on a trout stream, hunting lodge, or the line on a driven shoot. He was a master teacher.
Only a few words for the student — the right words.
If you enjoy shooting, or guns, or fine writing, may I suggest that you get a copy of one of Michael's books. After learning of his death, I opened Shotguns and Shooting, and spent some time with my friend. Fortunately, you can too.
Just pull one of his books from the shelf, and there he is. What a wonderful gift.
About:
Tom Gresham's Gun Talk Radio is in its 15th year of national syndication, Gun Talk Radio airs live on Sundays from 2PM-5PM Eastern, and runs on 96 stations, plus SIRIUS XM Satellite Radio. All Gun Talk shows can be downloaded as podcasts through Apple iTunes or at www.guntalk.libsyn.com. More information is available at www.guntalk.com.