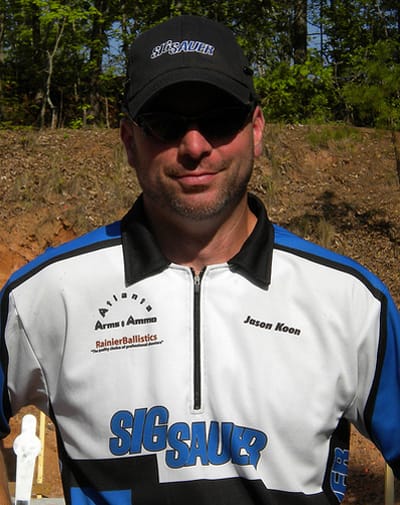 EXETER, NH – (Ammoland.com) – Team SIG shooter, Jason Koon, won first place in the Limited Division and scored two second place finishes in the Production and Rim Fire Iron Divisions at the 2010 Pennsylvania State Steel Challenge held July 9-11, 2010 in York, PA. Koon clinched his Limited Division title over his 23 competitors with a score of 115.54 points. He narrowly missed first place for both Production and Rim Fire Iron by 4.36 and 3.01 points, respectively.
"The Pennsylvania State Steel Challenge was a demanding match with heavy rains and high temperatures," commented Koon. "My X-6 ran flawlessly throughout the Limited Division and helped me clinch my first place finish."
Steel Challenge matches draw top shooters from a broad spectrum of shooting sports, including USPSA, IDPA, SASS, GSSF and others. The match is highly spectator-friendly and the competition is easy to understand – it is all about the speed.
Become a Fan of SIG SAUER on Facebook .
For more information on SIG SAUER, or any of its products, visit www.sigsauer.com.
About Jason Koon
Jason Koon began his career in local events as a Junior Shooter in archery, where he quickly became one of the Top 5 ranked Junior Shooters in the USA. He continued archery as a factory sponsored archer until 1995. Beginning in Bullseye Pistol, it was clearly evident that the required skill sets were similar to archery and Koon was immediately competitive. He currently competes in the International Defensive Pistol Association (IDPA), IPSC and NRA Action Pistol. Koon holds Master Level rankings or higher in these major pistol shooting sports. Koon serves as a Project Manager for one of the USA's largest underground pipeline contractors, where he is responsible for safety, quality, scope, budget and schedule.
About SIG SAUER, Inc.
SIG SAUER, Inc. is the largest member of a worldwide business group of firearms manufacturers that includes J.P. Sauer & Sohn and Blaser GmbH in Germany and Swiss Arms AG in Switzerland. This global network of companies gives SIG SAUER a world-class firearms knowledge base, unparalleled design expertise, and extensive manufacturing capacity, enabling the company to respond quickly and effectively to changing market conditions and the needs of its military, law enforcement, and commercial markets worldwide. SIG SAUER is an ISO 9001: 2000 certified company with over 370 employees. For more information on SIG SAUER or any of its products, or the SIG SAUER Academy, log on to www.sigsauer.com.