Team SIG Brings Home Two Top Ten Finishes at USPSA Production Nationals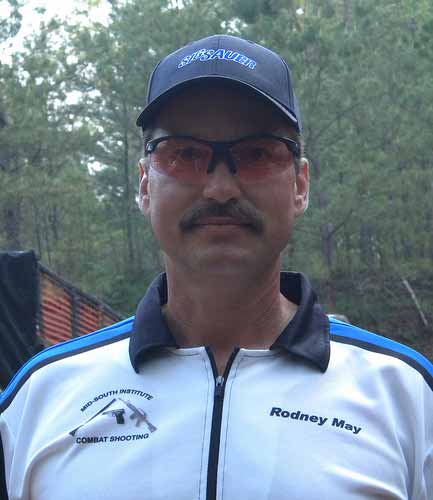 EXETER, NH –-(Ammoland.com)- Team SIG walked away with two top ten finishes this past weekend at the 2010 USPSA Production Nationals, held October 14-16, 2010 at the Desert Sportsman's Rifle & Pistol Club in Las Vegas, NV.
Rodney May came in third in the Grand Master Class in the Production Division and Fifth Place Overall for Production Division. Team SIG Captain, Max Michel, tried his hand in the Production Division and placed tenth.
More than 115 of the nation's top shooters came out to compete in 18 challenging stages at the USPSA Production Nationals.
May started off strong by winning the first stage of competition, which was ironically the SIG SAUER sponsored stage. He placed in the top ten in 11 of 18 stages and finished with 1542.8145 match points, or 93.89%.
"The USPSA Production Nationals were an incredible experience. The level of concentration one must exhibit in the desert is both exhilarating and challenging," commented May.

"I held first place for the first two days, but had one bad stage that cost me the title. This competition takes a lot of discipline to shoot accurately. I'm proud to say that our 9mm X5 Allrounds ran flawlessly in the desert heat and sand."
May will be competing next in the Arkansas Section Multi Gun Championship, held at the Old Fort Gun Club in Fort Smith, AR from October 30-31, 2010.
Michel placed in the top ten in 9 of 18 stages and finished with 1449.3093 match points, or 88.52%.
"The Production Nationals were a very difficult competition with some great shooters competing for the championship. As an Open shooter, Production is a very new division for me but I truly enjoyed it," commented Michel.

"With so many things to re-learn, I find it an interesting challenge that I look forward to facing more of in the future."
Michel's next competition is the Area 2 Championships, held at the Rio Salado Sportsman's Club in Mesa, AZ from November 10-14 2010. The Area 2 is the final Area Championship Michel must win in order to be the first person to win all eight Area Championships in a single year.
To follow Team SIG, click on to https://www.sigsauer.com/TeamSig/MaxMichel.aspx.
Become a Fan of SIG SAUER on Facebook at https://www.facebook.com/SIGSAUERInc.
Become a Fan of Max Michel on Facebook at https://www.facebook.com/maxmichel.us.
Follow Max Michel on Twitter at https://twitter.com/Max_Michel.
For more information on SIG SAUER, or any of its products, visit www.sigsauer.com.
About Rodney May
While working as a Nuclear Technician, Rodney May started his shooting career as a hobby. Impressed by his shooting skills, Mid-South Institute of Self-Defense Shooting approached him in 2003 to join their ranks. For the past seven years he has served as a Firearms Instructor, teaching Navy SEALS, Army Special Forces and various Federal Agencies. May specializes in 3-Gun style competitions and has recently won the Alabama 3 Gun Match Overall in the Limited Division and placed 2nd in the Production Division at the USPSA Area 6 Championships. May is a Grand Master Production Shooter and is in the process of becoming a Grand Master Limited Shooter.
About Max Michel
By anyone's account, Max Michel, Jr. is one of the best shooters in the world. With three World Speed Shooting Championships (2009, 2007 and 2005), five USPSA National Championships (2009, 2007, 2006, 2005 and 2004), 2 US Steel National Championships (2009, and 2008), more than 30 USPSA Area Championships, and over 80 Major Championship wins, Max Michel has become a dominant force in the pistol shooting sports. As an international competitor, Michel has represented the United States in the last four International Practical Shooting Confederation (IPSC) World Shoots and returned home each time with team gold medals. He will again represent the nation in Rhodes, Greece at the 2011 World Shoot and anchor the USA's Open Division team.
About SIG SAUER, Inc.
SIG SAUER, Inc. is the largest member of a worldwide business group of firearms manufacturers that includes J.P. Sauer & Sohn and Blaser GmbH in Germany and Swiss Arms AG in Switzerland. This global network of companies gives SIG SAUER a world-class firearms knowledge base, unparalleled design expertise, and extensive manufacturing capacity, enabling the company to respond quickly and effectively to changing market conditions and the needs of its military, law enforcement, and commercial markets worldwide. SIG SAUER is an ISO 9001: 2000 certified company with over 370 employees. For more information on SIG SAUER or any of its products, or the SIG SAUER Academy, log on to www.sigsauer.com.