Disse Gear Offers Discount Tactical Gear To Military & LE Personal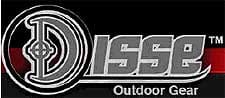 GLEN ALLEN, VA –-(Ammoland.com)- Disse Outdoor Gear understands how important it is to have high quality tactical gear that serves their intended purposes.
From accessory bags to fine shotgun cases, the team at Disse takes pride in their line of products and believes that your business and customers will benefit from the quality and attention to detail that goes into all of our products.
The Disse team wants to say thank you to all military and law enforcement personal this Thanksgiving holiday. To those that protect our country and serve communities, take 30% off any Celo 1ed and Celo 2ed from Monday, November 22, 2010 through Saturday, November 27, 2010. This offer is only valid to the IN-STOCK bags, so hurry now, this deal won't last long, just like that gobbler on Thanksgiving day!
About Disse Gear: From the beginning, team members at Disse Outdoor Gear, LLC have been working in close collaboration with individuals in the tactical and outdoor industry to define their products. Disse is constantly working to introduce product lines that exceed the needs of their customers by maximizing functionality and quality.
For more information on Disse Outdoor Gear or to view their complete line of products, please visit www.dissegear.com or by calling 888.854.5605 or email [email protected]