Wisconsin Gun Rights Political News
The elections are over, now what?
by Jeff Nass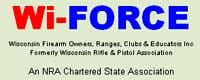 Wisconsin –-(Ammoland.com)- 2010 could have been a bad year in Madison for the Second Amendment.
WI-FORCE and our lobbyist, Bob Welch of the Welch Group, monitored over 100 bills and potential bills in Madison pertaining to firearms and hunting.
Yes, I said over 100. When you needed a voice, WI-FORCE was there. We were able to get a few good bills passed and, more importantly, we stopped all of the very bad bills. WI-FORCE was your voice.
Although a Personal Protection bill (including concealed carry of firearms) is first on our agenda, our legislators may also have some other minor things to deal with like jobs and the economy. WI-FORCE is committed to getting the best bill possible to allow the citizens of Wisconsin to exercise their Constitutional Rights.
What you should know about personal protection / concealed carry: No one has a bill, no one runs an approved or certified course for Wisconsin. WI-FORCE and NRA- ILA will be working with legislators to get the best bill that is possible passed. Our current legislators knew last January that Wisconsin would have a Personal Protection bill. There were some talks with the Majority party about passing a bill last summer before the election, but we could not get a reasonable bill. With the change, things are much friendlier, but there is still a lot of work to do.
Why is WI-FORCE the one to lead on this issue? First and foremost our motive is the Constitutional rights of the citizens of Wisconsin. We have been your voice, protecting the Second Amendment in Madison. Secondly, we have the resources in self-defense instruction that have taught classes for out of state carry permits for over 15 years. WI-FORCE's resources have extensive training in firearms and the judicious use of lethal force. They include Nationally Certified Counselors (they certify other instructors) for personal protection both inside and outside of the home, and instructors certified by the Massad Ayoob Group. These resources will help us advise the legislators to produce the best bill possible.
WI-FORCE is a strong advocate of training but that training will need to fit the needs of the permit holder, not how much money can be made by instructors and their organizations. The last 10 years we have seen, and will see, more so called experts pop up. The first couple of years after a state passes a personal protection bill, there are a large group of people in need of classes. Experts pop up out of nowhere. Once their state's pool is reduced, many that were making a living instructing, run out of customers. They then expand their potential customers by expanding to other states. I strongly suggest you choose carefully, both choosing a class and the knowledge that you take from that class. Massad Ayoob, Thunder Ranch, and Gunsite training facility have great reputations and understand that good teachers know their material and are able to teach it to others. Many that think they can teach, believe so because they have been trained well, but they do not have the skills to teach their knowledge, while others teach well, but their knowledge is limited. Always check the background of the instructor or organization you are looking to train with. Make sure that the instruction you get matches your needs.
WI-FORCE's first job is to protect and help ensure the Second Amendment rights of all citizens of the Wisconsin. We will protect not just the rich, the young or healthy citizens, but also (and maybe more importantly) the poor and disabled.
What can you do to help? Stay in contact with the Trigger ( get your buddies to sign up for the Trigger too! ) and check the website regularly at www.wi-force.org . When the time is right and, if it is needed, we will tell you to call or show up in Madison. Remember, when things were bad we were there. Now that things have changed, please support us.
About:
Wi-FORCE promotes and protects the shooting sports, hunting, and the lawful ownership and use of firearms in Wisconsin. We coordinate match schedules of member clubs, sanction the state championship matches, monitor and recommend legislation, and provide training and educational programs for our members, competitors and Wisconsin shooters. Wi-FORCE supports the interaction and education of all individuals and groups interested in the shooting sports and the natural right of citizens to own arms. Visit: www.wi-force.org