Go Old School Camo This Waterfowl Season
Olive Branch, MS –-(Ammoland.com)- When we introduced Drake's Old School Camo last year, our goal was to pay tribute to the rich heritage of waterfowl hunting and honor the people in our lives that introduced us to the sport.
We had no idea how well the concept would be received by hunters all across the country! For 2010, we added even more products in Old School Camo.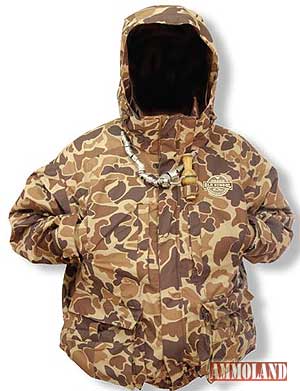 Almost every week we receive photos and e-mails from hunters telling us how much Old School Camo helps them connect with memories of their grandfather or father and how they are building new memories with their own children and other young hunters.
We love feedback like this and it's exactly what Drake Waterfowl is all about.
See the full Old School line here.
About:
When we set out to create the best waterfowl hunting clothes on the market nearly four years ago, we knew immediately that a standard warm coat wouldn't be near enough to impress the hard-core hunters that spend day after day in the field.
We needed something to meet every condition a hunter can face… we needed a "SYSTEM". This was the beginning of Drake Waterfowl Systems. Visit: www.drakewaterfowl.com