Wilson Combat Custom Alliance Knife Additions
Berryville, AR –-(Ammoland.com)- For over a decade, WILSON TACTICAL the knife and tool division of WILSON COMBAT has brought the finest in quality edged tactical tools to our discriminating clientele.
For 2010 we will be offering a limited collection of hand made knives by some of today's premier tactical knife makers without the long wait typically associated with special ordering a custom edged masterpiece.
These newly designed knives featured in the new CUSTOM ALLIANCE will be few in number, and will quickly become a valued centerpiece of your collection. These offerings will typify the WILSON standards of extraordinary quality, classic design and unmatched value.
Introducing the Latest Additions to the WILSON TACTICAL 2010 CUSTOM ALLIANCE
After the success of our first two Jason Knight collaborations, the Rogue Knight Bowie and the Dark Knight Bowie, the award winning Master Bladesmith has developed a an extraordinary hunting-utility knife that perfectly complements the flowing contours of the Rogue Knight Bowie. The new Knight Wilderness belt knife is unmatched in style and performance and is an equally impressive defensive or utility tool for the discriminating Wilson customer
"Knight Wilderness Hunter" by Jason Knight
Specifications: $625.00
Steel: W2 Carbon Tool Steel
Blade Length: 5"
Blade Thickness: .205"
Handle Length: 4.8"
Overall Length: 9.8"
Weight: 6.1 oz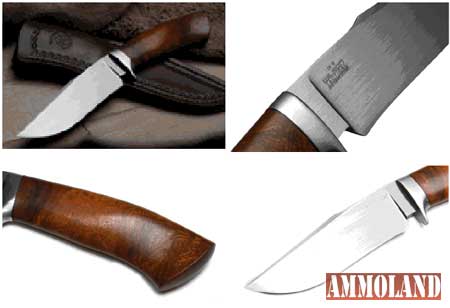 A superbly contoured ironwood handle and stainless guard locks your hand into place under extreme field conditions. The razor sharp, hand-forged W2 carbon tool steel blade is finely satin finished and expertly heat treated for unbeatable toughness and extreme edge holding. The Wilderness has ideal edge geometry for fine precise cutting and woodcraft tasks.
A Lance Parrish custom leather pouch style sheath of exceptional quality accompanies each knife. The Knight Wilderness is destined to be a classic pattern in the custom alliance line and a cherished keepsake. Limited to 10 numbered pieces.
We are also pleased to welcome, Allen Elishewitz, to our Elite line up of Custom Alliance craftsmen. Allen is considered one of the foremost tactical custom knifemakers in the USA.
At a young age, Allen Elishewitz has become one of the prime movers in research and development of tactical edged tools. His extensive martial arts background and training as a Recon Marine has given this native Texan the tools necessary to build knives from the heart, based on reality but with a flair for the extraordinary. He has completed notable factory collaborations with the Benchmade, CRKT and most recently Hogue. He is considered one of the foremost tactical custom knifemakers in the USA. You can learn more about Allen and his many achievements at www.elishewitzknives.com.
"Scout Elite" by Allen Elishewitz
Specifications: $750.00
Steel: CPM 154CM
Blade Length: 4"
Blade Thickness: .150"
Handle Length: 5"
Overall Length: 9"
Weight: 6 oz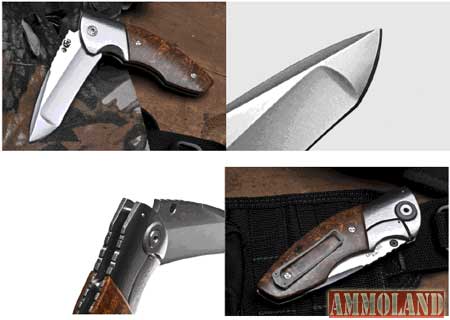 The Scout Elite takes one of Allen Elishewitz's time tested and practical Scout patterns and dresses it up with a novel construction element-his bolster lock-a titanium framelock that is precision machined to accept handle scales, in this case, premium desert ironwood.
The Scout Elite's radically hand ground blade sports a reinforced, armor piercing tip and a thinly ground main edge of 154CM American made, extra high Carbon stainless tool steel for optimum, all-around performance. 154CM was initially developed for jet turbine components, so it is ideal for tough long lasting knife blades.
The Titanium bolster lock achieves the brute strength of a frame lock design with the contoured feel and eye-pleasing look of rare hardwood. Because of the intricate machining involved, Allen only hand-crafts a handful of bolster-lock based handmade knives per year. The precision of this knife will be sure to impress the most discriminating aficionado.
The Scout Elite is limited to 10 serial-numbered pieces.
Contact Information:
Wilson Combat www.wilsoncombat.com