Jessie Abbate Joins Leupold's Competitive Shooting Pro Staff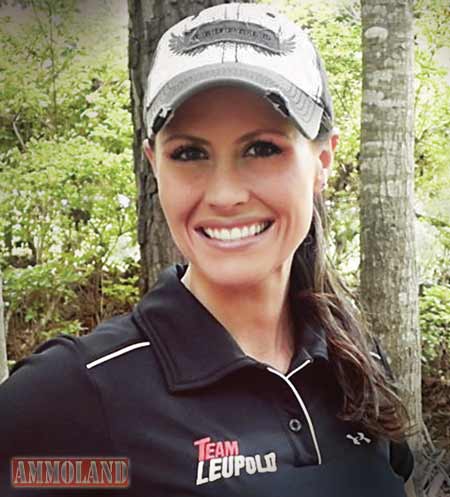 BEAVERTON, Ore. –-(Ammoland.com)- Leupold announces Jessie Abbate as the newest member of its competitive shooting pro staff.
In just seven years, Abbate has advanced from being a newcomer on the shooting circuit to a top-ranked professional.
She has earned numerous world and national championships, along with many regional titles, in several different shooting disciplines.
At the 2011 SHOT Show in Las Vegas, Abbate is scheduled to be in the Leupold booth (# 13123) from 2 p.m. to 3:30 p.m. Tuesday, Jan. 18, and Thursday, Jan. 20.
"We welcome Jessie to Team Leupold," said Mike Slack, marketing communications manager for Leupold & Stevens, Inc. "She joins a select group of shooters who have set records, won countless championships and dominated the competitive shooting scene. We are very excited and pleased that another of the world's best has chosen Leupold optics."
Abbate enjoyed another successful shooting year in 2010. Her list of titles includes NRA Bianchi Cup Ladies Open Champion; Steel Challenge National and World Ladies Open Champion, and .22 Open Champion; and United States Practical Shooting Association (USPSA) Ladies Limited National Champion, and Area 6 and Area 8 Ladies Open Champion.
Since 2001, Abbate has earned more championship titles in state, regional, national and world competitions than any other competitive female shooter in the world.
In competition, Abbate's preferred optic is the Leupold DeltaPoint™ Reflex Sight. She is also an avid hunter who depends on Leupold optics in the field. Abbate has trophy whitetails as well as several different species of African big game to her credit.
"I cannot afford to lose a match because of equipment failure. I also need to be confident in my equipment when I am hunting," Abbate said. "Leupold gives me the reliability and high performance that I need in my hunting and in my quest to win championships."
Leupold's pro staff also features Doug Koenig, the dominant competitive pistol shooter of his generation. Other staff members include world-class tactical shooting specialists such as Bennie Cooley, Cameron Grantham, Tasha and Mark Hanish, Tony Holmes, Robby Johnson, Charles "Tate" Moots, Kelly Neal, Dave Neth, and Adam Popplewell. As a group, they have used Leupold optics to win numerous events including sniper matches, three-gun challenges and SWAT team competitions.
Leupold & Stevens, Inc., the preeminent American-owned and -operated optics company, employs more than 700 people in its state-of-the-art facility near Beaverton, Ore., where rugged, dependable, high-performance Golden Ring optics, Mark 4 riflescopes and Redfield Revolution riflescopes are designed, machined and assembled. Leupold is a fifth-generation, family owned company whose products are sold worldwide to hunters, competitive shooters, American military warfighters, law enforcement personnel and wildlife observers. The product line includes rifle, handgun and spotting scopes; binoculars; rangefinders; trail cameras, flashlights; mounting systems; and optical tools and accessories.