Whitetail Properties Launches New Website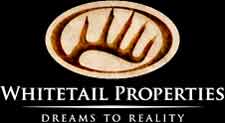 Pittsfield, IL –-(Ammoland.com)- Whitetail Properties introduces its newly updated, user-friendly website www.whitetailproperties.com.
Thanks to the fresh design and new features, this attractive and innovative website now brings buyers and sellers of hunting land together more effectively than ever!
Whitetail Properties primary purpose is to unite buyers and sellers through its team of recreational land specialists. Owning a prime piece of hunting land is every hunter's dream and Whitetail Properties makes those dreams come true.
"Our goal was to provide an easy-to-navigate website chocked full of relevant information for those who are searching for recreational property," says Dan Perez, host of Whitetail Properties TV Show and broker and land specialist. "This website will constantly evolve as technology and information changes. It will reflect the forward-thinking attitude of our entire operation."
New features include:
A dynamic mapping application featuring custom Google Map tools
Detailed options for state and county search
Multi-media integration, including new video showcases and photos, for each property
The mobile-friendly site currently features 550 real estate listings, which is more than any other independent hunting/recreational land brokerage in the country. Thanks to the website's new, easy-to-use features, visitors can get a true feel for the properties without leaving the comfort of their homes.
Additional website features include:
Whitetail Properties Dream Dirt Blog
Episodes of Whitetail Properties TV
Bio and contact information for agents and brokers
List of upcoming land auctions
Link to information on hunting leases across the country
"With Whitetail Properties, our goal was to deliver a user-friendly platform that would educate potential buyers on recreational land by utilizing the latest technology," said Jake Fagan, president of Caddis Interactive. "We wanted to create a site where people could experience every detail each property has to offer."
Owning a prime piece of hunting land is every hunter's dream and Whitetail Properties makes those dreams come true. Hunting properties are the specialty and Whitetail Properties takes pride in matching the needs of buyers and sellers with the experience and services provided by highly trained real estate agents. For more information, call 217-285-9000, or check out www.whitetailproperties.com.