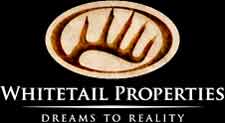 Pike County, IL. –-(Ammoland.com)- Whitetail Properties, the recognized leader in Midwest hunting and recreational land sales, has reached numerous milestones in record time.
Specializing in selling hunting, ranching and tillable land since its start in 2007, Whitetail Properties has rapidly grown into states all across the Midwest and has recently expanded into Texas.
During 2012, Whitetail Properties sold $240 million in farm and ranch land. By leveraging its national marketing influence and knowledge of land, it has benefited clients wanting to sell not only hunting land, but agricultural farms as well. In fact, the sale of a 2,880-acre tillable farm represented one of the single largest production farm sales in Missouri during 2012.
In the spring of 2012, Whitetail Properties agent, Jeff Propst, listed an active production farm in Livingston County, Mo. Far from a typical listing, this 2,880-acre farm stretched contiguously along the Grand River Basin with approximately 2,500 tillable acres of bottomland. This property also included two homes, barns, outbuildings and storage bins.
Propst was up to the challenge of marketing this unique property and finding the right buyer.
"I felt like I could get this deal done," Propst says. "Between my contacts and the best marketing team in the land business, I felt good about selling this big tillable piece."
Propst took a strategic approach to marketing the property. He employed a pilot in order to capture aerial video and photography of the farm, and then he put the Whitetail Properties marketing machine to work by utilizing the profusion of print, electronic media and Whitetail Properties TV.
This effort resulted in a number of inquires on this premier tillable farm in a short amount of time; one of which was Pat Malone, of Malone Real Estate. Malone had a unified group of investors who requested additional information. Propst prepared a current prospectus of the farm's crop history, soil samples, irrigation, drainage and slope data. Then after weeks of daily phone conversations, Propst and Malone were able to bring the seller and buyers together to close the deal.
After only five months on the market and with a listing price of $21 million, this 2,880-acre tillable farm is the largest single-land transaction to date for Whitetail Properties.
"I am proud of what Propst has accomplished with this sale," Dan Perez, Whitetail Properties broker, says. "When you consider our market research and network, no other real estate company is positioned better to help unite buyers and sellers of large tillable tracts or ranches. Although we started the company based on selling hunting ground, we are committed to selling tillable land and working ranches."
Other sizeable sales to note in 2012 include the Quentel Ranch, which sold for $7.6 +/- million. This 15,391 contiguous-acre, multi-purpose ranch is located in Kearny County, Kan., and a 3,155-acre, Brown County, Neb., cattle ranch sold for $3.5 +/- million.
About
Headquartered in Pike County, Ill., Whitetail Properties is an agricultural and recreational real estate company that offers it services throughout the Midwest, Kentucky, Tennessee and Texas.
Whitetail Properties staffs a select team of specialists who are the most skilled, knowledgeable, honest, and hard-working real estate agents in the country. In order to reach the greatest number of potential land buyers and sellers, the company utilizes a national marketing campaign highlighted by an industry-leading website and the highly rated award winning show, Whitetail Properties TV, which airs on the Sportsman Channel in over 43,000,000 households. www.whitetailproperties.com