Rains Threaten DPMS-Bushnell Blue Ridge Mountain 3-Gun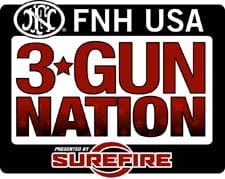 PARK CITY, Kent. –-(Ammoland.com)- Like Yogi Berra so famously said, "It's like déjà vu all over again." Kentucky's month-long deluge of severe thunderstorms and torrential rains left its final mark on the 2011 DPMS-Bushnell Blue Ridge Mountain 3-Gun at the Rockcastle Shooting Center here Sunday, as the final two stages were scrapped due to inclement weather.
While rain had soaked the course in the days and weeks prior to the event, the weather broke for two spectacular shooting days on Friday and Saturday before the final downpour Sunday morning.
Last year's Blue Ridge Mountain was also shortened due to inclement weather, to the point no winners were declared.
However, the entire field had shot at least eight of ten stages this year, so scores were normalized and it was U.S. AMU's Daniel Horner that emerged for the overall and Tactical Optics victory. For Horner, the win comes on the heels of a 2nd place finish at Superstition. The Blue Ridge win, a nearly 90-point victory over eight stages, emphatically stated that Horner (770.5103) is the most dominating shooter in the sport on natural terrain courses of fire, and possibly any type of stage design.
Remington's Robby Johnson (683.9144) took second in Tactical Optics, followed by Noveske's Rob Romero (673.5116), Rustin Bernskoetter (662.9975) and Caspian's Bruce Piatt (647.1356).
In Open, Clint Upchurch continued his remarkable run, winning his fourth consecutive division title by holding off a strong performance by SureFire's Mike Voigt (742.8257). While Voigt won four of the eight stages, a slip on stage two's long-range rifle steel arguably decided the match, as Upchurch's lead on stage two mirrored his overall point lead over Voigt.
DPMS' James Darst (701.1839) narrowly edged out Don Bednorz (694.4393), while Team Rockcastle's Tony Holmes (675.4203) took fifth.
In Tactical Irons, Kelly Neal (761.7459) picked up his 2nd consecutive division win by a comfortable margin. James Casanova (702.677) placed second, followed by Brian McKibben (693.6945), Hornady's Jeff Cramblit (690.4002) and Spike Tactical's Cameron Thompson (596.9331).
Heavy Metal saw an interesting battle as SureFire's Barry Dueck (782.3063) jumped divisions from Heavy Metal Optics (not recognized at Blue Ridge) and cruised to his first division win since last Fall's Ozark match. Upstart Bryan Ray (693.0936) placed second, followed by Joe Satterfield (663.663), Maurice Griffin (649.8307) and J.J. Johnson (614.9773).
Horner's win will vault the Army shooter up the 3GN leader board from 17th place all the way to 2nd behind Upchurch, who remains the only competitor with a perfect score of 300. However, with Horner's second win, it seems only a matter of time before he joins Upchurch atop the 3GN standings.
The next event on the 2011 FNH USA 3-Gun Nation Tour, Presented by SureFire, is the MGM Ironman, June 5-11 in Parma, Idaho. A 3GN Shoot-Off and 3GN Points event, Ironman will be the 5th of 10 3GN Tour events this season.