Rod and Peggy Bremer Receive Knife Rights Freedom's Guardian Award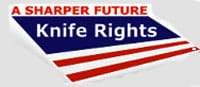 Gilbert, AZ –-(Ammoland.com)- Knife Rights is pleased to announce that Rod and Peggy Bremer are the recipients of its inaugural Freedom's Guardian Award which was presented at the Knife Rights Sharper Future Awards Breakfast on June 11th during BLADE Show in Atlanta, Georgia.
Mr. and Mrs. Bremer are founders and owners of Columbia River Knife & Tool, a knife manufacturer located in Tualatin, Oregon.
The Freedom's Guardian award honors a production knife manufacturer or industry partner that has demonstrated their commitment to a Sharper Future by their support of the fight to protect or enhance our knife rights.
Knife Rights Chairman Doug Ritter said, "Rod and Peggy are being recognized for their support of Knife Rights from its inception. Their initial pledge of financial support when we first conceived of Knife Rights helped launch the organization. In the ensuring five years, Rod and Peggy have always been there, often giving more than requested or even more than I might have hoped for in a moment of wishful thinking. They have been a staunch industry supporter and Rod has often provided wise and sound counsel. His point of view, as a manufacturer and as a freedom-loving American, is very much appreciated."

"Knife Rights is succeeding far out of proportion to its size in part due to the industry support we have received. We sincerely appreciate those in industry who help us get so much done that is critical to their customers, our members, and the industry as well. This award is a way to publicly acknowledge and honor these guardians of our freedoms," said Ritter.
Knife Rights (www.KnifeRights.org) is America's Grassroots Knife Owners Organization, working towards a Sharper Future for all knife owners. Knife Rights is dedicated to providing knife owners an effective voice in public policy.
About:
Knife Rights has quickly grown to become America's largest grassroots knife owners organization. Invest in a Sharper Future. Become a Knife Rights member and make a contribution to support the fight for your knife rights. Visit www.kniferights.org