Command Arms RONI Recon Pistol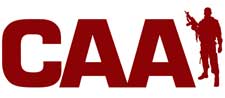 Tullytown, PA –-(Ammoland.com)- Command Arms Accessories (CAA) is proud to introduce the newest member of the RONI family, the RONI Recon.
The New RONI Recon (RONIRG1) Pistol housing converts your Glock to a weapon with a longer sight radius and a two handed weapon control.
Add any optic on the 9.5 inch rail that runs the length of the RONIRG1.
The ergonomic design will provide a heads up sight picture for improved target acquisition. The strategically placed rear sling swivel will let you add our one point sling (OPS) for added stability while engaging targets.
Add a set of our front and rear (FFS / FRS) flip up sights for additional target acquisition. The included side rails will let you connect your favorite light or laser.
Add a set of short bipods (NBPS/SBPS) for even more stability and bench rest competition shooting.
WARNING: The addition of a forward grip to the RONI RECON results the manufacture of an "Any Other Weapon" (AOW) and is subject to NFA Rules.
WARNING: The addition of a stock to the RONI RECON results in the manufacture of a Short Barrel Rifle (SBR) and is subject to NFA rules.
RONI Recon installs in less than 6 seconds with no pistol disassembly or modification.
About:
Command Arms, CAA Tactical and EMA Tactical are the world's leader in the development and manufacture of advanced, superior arms accessories.. Visit: www.commandarms.com