Down-N-Dirty Outdoors Introduces New Grunt Call – The HawgHead
Lewisburg, Ky –-(Ammoland.com)- Down-N-Dirty Outdoors, makers of high-quality handcrafted turkey and waterfowl calls, has expanded its product line to help whitetail deer hunters become more successful with the introduction of a hearty and extremely effective grunt call named The HawgHead.
Not your typical grunt call, the new HawgHead produces extremely realistic deer sounds with a wide volume range in an exceptionally user-friendly call.
The HawgHead boasts a one-piece design with a laser-engraved walnut barrel.
The HawgHead was purposely constructed with a wide bore but without traditional flextube in order to produce accurate grunts at higher volumes that are needed to overcome long ranges or wind to grab the attention of the big bucks.
DND's new HawgHead also offers a precisely weighted reed assembly that is set near the mouthpiece, making for easy use and low volume grunts for close-in work.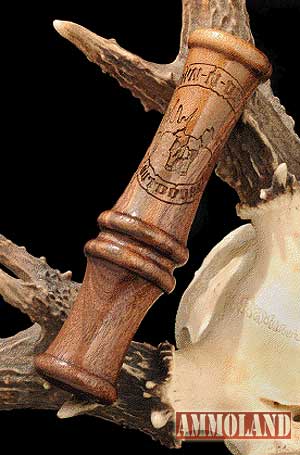 "We are very excited to introduce The HawgHead to show folks how effective this unique call is at fooling and drawing in mature deer," said Mark Coin, president.
"We have been refining this call for the past few years, and we wanted to make sure it was up to the DND standards before releasing it. We're sure deer hunters will find that it produces accurate deer sounds with volume, realism and ease that no other call on the market can offer."
The HawgHead grunt call is simple in design, durable, and—most important—deadly. Look for it at retailers this fall or online at www.downndirtyoutdoors.com. The HawgHead will retail for $24.99.
For more information on Down-N-Dirty Outdoors, and to get demonstrations on the entire line of calls go to www.downndirtyoutdoors.com. Be sure to visit the Down-N-Dirty Outdoors fan page on Facebook.