Dog Days of Summer Busy at Knife Rights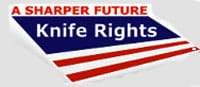 Gilbert, AZ –-(Ammoland.com)- We want all those affected by Irene this past weekend to know our thoughts and prayers are with you as you work to get your lives back to normal.
When viewing the damage Irene has left in its wake, it just reinforces how important knives and edged tools are to our survival and recovery after any disaster.
It may be the dog days of summer, but unlike some people who have been playing golf, for us here at Knife Rights there's been plenty of work to do. We have been working non-stop all summer on both our Federal Civil Rights lawsuit against New York City and the New York District Attorney, as well as on our legislative efforts for next session.
In New York City, honest citizens are still being arrested on the streets and subways for carrying perfectly legal knives. In one particularly outrageous case an electrician was arrested standing on the front step of the home he was working at with his knife in his tool belt. He joined another person in the back seat of an unmarked police car that had been arrested for a so-called "illegal knife" just down the street. Our legal team is currently assisting a number of these victims even as our civil rights lawsuit is slowly moving forward.
Never carry your knife in New York City clipped to your pocket. Even when covered by a jacket, simply moving the jacket aside to get to a wallet has been enough to get folks arrested. Always ensure your knife is completely concealed at all times. If you are arrested for possession of an "illegal knife" in New York, please contact Knife Rights at: [email protected]
The lawsuit to stop this persecution of honest New Yorkers carrying perfectly legal knives, filed in June, is at its early stages and proceeds apace. As to our legislative agenda, including our National Knife Law Preemption Campaign, we are working on numerous states to either pre-file bills for next session or line up sponsors to file at the earliest opportunity. We are laying the groundwork for a record breaking legislative year.
We cannot do all this without your support. As we have said before, FREEDOM IS NOT FREE. Your contributions are needed more than ever. Please support Knife Rights with a Contribution!
Meanwhile, we hope to see many of you at two events coming up. Please stop by the Knife Rights booth/table and say hello:
Usual Suspects Network Gathering in Las Vegas, NV, September 2-3 www.usngathering.com
Knifemakers' Guild Show in Louisville, KY, September 15-18 www.knifemakersguild.com/show.shtml
About:
Knife Rights (www.KnifeRights.org) is America's Grassroots Knife Owners Organization, working towards a Sharper Future for all knife owners. Knife Rights is dedicated to providing knife owners an effective voice in public policy. Become a Knife Rights member and make a contribution to support the fight for your knife rights. Visit www.kniferights.org