Team ITI Performs Well At Inaugural IDPA World Championship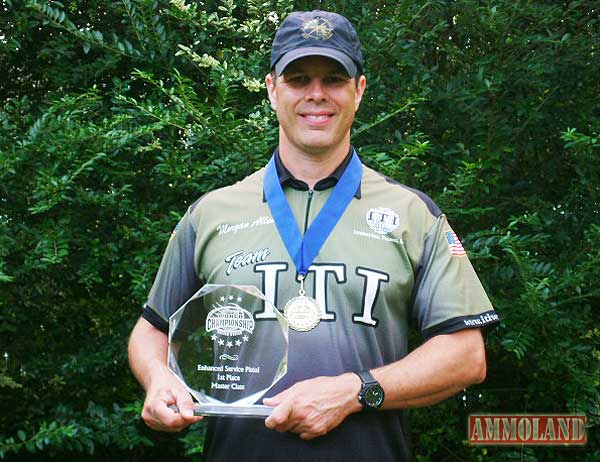 SHACKLESFORD, VA –-(Ammoland.com)- Team International Training, Inc. (ITI) sent five team members to compete in the inaugural IDPA World Championship, held September 21st through September 24th, 2011 at the Universal Shooting Academy in Frostproof, FL.
The match proved great for the entire team. Approximately 400 current IDPA members came out to compete against the country's best to lay claim to glory and fame.
Team Captain Brandon Wright finished 2nd overall Stock Service Pistol (3rd Overall for the match) with a score of 289.82.
"I am very pleased with the results that Team ITI put on the score board for the first ever IDPA World Championship," commented Wright. "We had a total of five team members giving it their all through 20+ stages in the grueling heat and humidity of Florida's weather. Almost 400 shooters from all over the world showed up to compete in this event and Team ITI had two of its members in the Top Ten: myself (3rd Overall) and Morgan Allen (6th Overall)."
Wright continued, "My thanks go out to Curt Nichols, Jerry Biggs and all the hard working staff that help set this match up. Also I would like to congratulate all the division winners on a great match."
Morgan Allen, selected to compete for Team USA as the Enhanced Service Pistol (ESP) Division representative, as well as for Team ITI, finished 2nd overall ESP (6th Overall for the match) with a score of 312.35.
"It's a great cap on the year to have been a part of the IDPA World Champion US Team and to have finished 2nd in the ESP Division," commented Allen. "The support I've received in both substance and encouragement has been fantastic and humbling at the same time."
Gary Byerly finished 4th overall Custom Defense Pistol with a score of 362.31.
"Twenty-two stages over two days of shooting means the shooter who makes the least mistakes and stays focused will rise to the top," Byerly said.

"Top finishers at this match earned their awards due to the additional difficulty level of some of the stages along with the weather conditions. Being able to rapidly develop a plan and execute it was mandatory to do well. A solid fundamental base allows skill sets to be 'plugged in' as needed. This allows one to identify and adapt to changing conditions. Training with my teammates is an invaluable resource for my personal progress. Congratulations to Brandon and Morgan for their excellent performance!"
Laura Torres-Reyes brought home 2nd Place Lady in Stock Service Pistol, while Rob Middaugh finished 12th Enhanced Service Pistol Master with a score of 378.03.
To see the full match results, visit the IDPA website.
Follow Team ITI on Facebook: www.facebook.com/TeamITI
Watch videos of ITI on YouTube: www.youtube.com/wwwitiwsicom
About G4S International Training, Inc.
G4S International Training Incorporated (ITI) is the training division for G4S. Founded in 1989; ITI is committed to providing benchmark security training programs emphasizing professionalism, quality, customer service, and a fair price. ITI conducts both mobile and fixed site training in security assistance and security service programs for the U.S. Government, U.S. military, corporate America, and now private citizens. For more information on ITI or any of their courses, log on to www.itiwsi.com.
About Morgan Allen
It's hard to believe that Morgan Allen has only been shooting pistols since 2005, considering he has 30 IDPA State and Regional Division Championship titles under his belt since 2007. Having moved up the ladder from an IDPA Novice to Master in only 14 months, Allen has also won five top-five Division finishes at IDPA National Championship matches. Allen is an NRA Certified Pistol Instructor, as well as an IDPA Safety Officer, USPSA Range Officer and PPC Master.
About Gary Byerly
Gary Byerly has been competing in IDPA matches for the past eight years and USPSA and 3-Gun matches for five years. He is an IDPA ESP and SSP Master, as well as a six-time IDPA State Champion. Byerly is a Master in Production and holds an "A" Classification in Open, Limited, Limited 10 and Singlestack in USPSA. Byerly is also a four time Area class winner and a one-time Area Champion.
About Rob Middaugh
Rob Middaugh began his competitive shooting career in IDPA over two years ago. He holds an Expert Class level along with several top three finishes in his class. Currently the Operations Manager for the ITI Virginia Campus, Middaugh has been a Firearms Instructor with ITI for 12 years. He has over 20 years of Military and Law Enforcement experience.
About Laura Torres-Reyes
Laura Torres-Reyes first started her shooting career five years ago when she decided to practice to qualify for a deployment in support of Operation Iraqi Freedom. She primarily competes in IDPA as an SSP EX and has earned 21 state and regional Ladies Championship titles and 25, state and regional High Military Championship titles. She has been serving for over 23 years on Active Duty in the Air Force. Colonel Torres-Reyes, a Bronze Star Medal recipient, specializes in Occupational Medicine. Prior to being on Team ITI, Torres-Reyes competed as a member of Team Smith & Wesson for two years.
About Brandon Wright
Brandon Wright served four years as a Law Enforcement Officer and four years as a State Trooper in the Virginia State Police. In addition, Wright was a member of the local police department S.W.A.T. Team. Wright has over eight years of experience as a Firearms Instructor, which he puts into practice at ITI as their Senior Firearms Instructor. He is an IDPA Master Class shooter and is currently awaiting classification in USPSA Production and Limited Divisions.