Win a Leupold Trail Camera System at NRAhuntersrights.org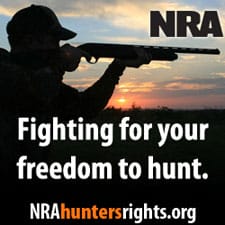 Fairfax, VA--(Ammoland.com)- During the month of October, visit www.NRAhuntersrights.org for a chance to win a Leupold RCX-1 Trail Camera System.
Leupold's new RCX-1 Trail Camera System features an innovative hand-held USB controller/viewer, which plugs directly into the camera and allows hunters to download and view images on the spot, eliminating the need to remove photo cards and check them elsewhere.
With the controller/viewer, the user can also get real-time alignment of the camera's view and instant access to all program settings, without opening the camera or removing it from the mount.
The eight-megapixel RCX can use up to a 32 GB SDHC card, will operate continuously for months with eight AA Lithium batteries, and can capture images at intervals of less than two seconds—far faster than conventional cameras that can take up to 15 seconds to recover from shot to shot.
A wide-angle lens and trigger speed of less than one second up your chances of seeing full racks rather than partial head shots. A video option is included along with still imagery (in high resolution color mode for day and infrared at night).
The RCX-1 System Kit includes the camera, controller/viewer, 12-volt cable, car adapter, home adapter, USB cable, AA battery pack cartridge tray (batteries not included), lithium-ion battery (for the controller/viewer), six hex standoffs for mounting, and mounting strap.
Free to one lucky entrant, Leupold's RCX-1 Trail Camera System retails for $279.99. For more information on Leupold's new line of RCX trail cameras, visit www.leupold.com/rcx.
To enter the October Gift Giveaway, visit www.NRAhuntersrights.org, scroll down to "Gift Giveaway" on the right-hand side of the homepage, and follow the simple entry instructions. There is no cost to enter. Entries will be accepted Oct. 1 through Oct. 31, and a winner will be announced Nov. 1 on www.NRAhuntersrights.org.
About:
For the most up-to-date information about your hunting rights there's just one source: www.NRAhuntersrights.org.