Burris Launches New Tactical Riflescope Line – MTAC Scope Series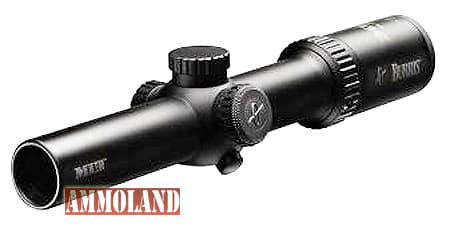 GREELEY, Colo. –-(Ammoland.com)- Recognizing the explosive growth in 3-Gun competition shooting, Burris has developed a new line of riflescopes built to deliver precision, performance, versatility and shooter confidence.
The new MTAC line offers five new scopes that are designed for the tactical shooters and 3-gun competitors, but are versatile enough for use in the field.
The new MTAC series consists of a 1x-4x 24mm, 1.5x-6x 40mm, 3.5x-10x 42mm, 4.5x-14x 42mm and a 6.5x-20x 50mm. The MTAC 1x-4x 24mm, with its wide field-of-view and illuminated Ballistic CQ 5.56/7.62 reticle is the perfect companion for any AR-style firearm. This scope allows you to quickly and easily engage close targets or take precise aim to 600 yards. For those that want more versatility and confidence for the short-range fast shots, it is also available as a package with the popular FastFireä red-dot reflex sight. Like the 1x-4x scope, the 1.5x-6x 40mm offers an illuminated reticle, but is more suited when longer-range shots are more common.
For the long-range tactical shooter, the MTAC offers three scopes, 3.5x-10x 42mm, 4.5x-14x 42mm and a 6.5x-20x 50mm, all of which have adjustable parallax. All three scopes feature the popular G2B Mil-Dot reticle for precise aiming, distance measurement, holdover and hold off. Additionally these scopes sport the new MTAC Mil-Rad knobs with finger-adjustable/resettable dials for windage and elevation.
The five new riflescopes in the Burris MTAC line offer a generous four inches of eye relief, rubber-coated eyepiece and are made with rugged 30mm tubes. All lenses are precision ground optics that are index matched, multi-coated with the Burris proprietary HiLumeä coating for unsurpassed clear, sharp, high-resolution images.
The new MTAC scope line will be available at retailers in the first quarter of 2012. Suggested retail pricing is: 1x-4x 24mm, $399; 1x-4x 24mm with FastFire, $599; 1.5x-6x 40mm, $399; 3.5x-10x 42mm, $449; 4.5x-14x 42mm, $549; and 6.5x-20x 50mm, $699.
New Burris MTAC 30mm Riflescope Specifications:
Model                                                 1x-4x 24mm          1.5x-6x 40mm       3.5x-10x 42mm     4.5x-14x 42mm     6.5x-20x 50mm
Field of View (ft. @ 100 yds):          100 low–32 high     33 low–13 high       22 low– .5high        22 low-7.5 high       18 low-6 high
Exit Pupil (mm):                                  24 low–6 high         13 low–5 high         14 low–5 high         9 low-3 high            7.6 low-2.5 high
Click Value (ins. @ 100 yds.):          .5                             .25                           .5                             .25                           .25
Max. Adjustment (ins. @ 100 yds.): 130                          80                           80                            64                            50
Length (inches):                                11.3                         12.2                         13.1                         13                            14.5
Weight (ounces):                               17                            14.1                         16.6                         17.6                         18.2
Founded in 1972 and headquartered in Greeley, Colo., the Burris Company offers a complete line of premium optics which includes riflescopes for hunting, competition, law enforcement and military; handgun scopes; binoculars; spotting scopes; mounts and accessories. For more information, write to the Burris Company, 920 54th Avenue, Ste. 200, Greeley, CO 80634. For detailed product information, visit the company website at www.burrisoptics.com. Visit us on Facebook at www.facebook.com/BurrisOptics.