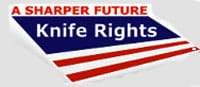 Gilbert, AZ –-(Ammoland.com)- The Knife Bigots on the Boston City Council have approved an anti-knife ordinance that licenses retailers of knives with a blade 2 inches or longer.
A revision of the original proposal exempts "cutlery" that is defined as "utensils used as tableware or used for cutting and eating foods."
Regardless, this ordinance is still flawed in many respects,beyond the fact that it will be ineffective at its stated aim of reducing crime.
Knife rights still opposes this ordinance as unneeded, irrational and likely, illegal. You can read the ordinance here: http://bit.ly/vFD3Sy and the committee's report and intellectually dishonest rationalization for the ordinance here: http://bit.ly/uiyF0L.
The next step is up to Boston Mayor Tom Menino, who can veto this insanity.
ACTION: Please email and call Mayor Menino at [email protected] and 617-635-4500 and express your opposition to this ordinance. Click here for a model letter to the Mayor Menino. Modify the letter to suit your style, but be respectful and polite or it will not be effective.
We have no more than 15 days from this past Wednesday, and he could sign it sooner, so please, write or call TODAY!
S. E. Cupp Supports Knife Rights
Knife Rights is very pleased to welcome political commentator, author and columnist S.E. Cupp to our community. S.E first wrote on the subject of New York DA Cyrus Vance, Jr's persecution of knife owners and retailers in a column back in July. She recently became a Knife Rights member and encourages others to join and support Knife Rights:
"A knife is more than just a utility tool. In a pinch, it can also serve as a defensive weapon, clearly protected by the Second Amendment. Disarming citizens never makes sense except to criminals who prey on those disarmed and politicians who cannot grasp the concept of freedom and liberty."

"Whether in town or on a hunt, a knife earns its place at my side as an essential tool. I am a knife user and proud to be one."

"Leave my knives alone! Knife Rights is standing up for our freedom. Join me in this fight; join Knife Rights today!"

— S.E. Cupp
Knife Rights is Making a Difference
It has been a busy year here at Knife Rights where we are certainly making a difference with your support.
This year we passed Knife Law Preemption in two more states and blocked anti-knife laws from being passed in two others. We filed a Federal Civil Rights lawsuit against New York City and DA Cyrus Vance, Jr., to stop their persecution of knife owners and retailers. We're fighting an anti-knife ordinance in Boston and we're supporting legal battles in three other states.
Whew! It's not easy making a difference, but what a sense of accomplishment that you, as a Knife Rights supporter, can share in!
But, that's not all! We have a knife law preemption bill running in Pennsylvania that will also eliminate bans on switchblades and other banned knives. We are close to filing bills in three other states. We are working with legislators in five more states on pro-knife legislation.
Times are tough, we get that. But, we're still asked, "how can I help Knife Rights?"
Here's the bottom line: fighting for a Sharper Future™ takes money. This is the time of year when many people make special gifts to non-profits to support issues that are important to them.
I hope you'll consider Knife Rights important enough to include us in your year-end giving. We're making a difference, but we can make a bigger difference with your help. Together we can preserve the freedoms we believe in for the next generation.
Every state where we run a bill costs thousands of dollars. Every time we have to stop a stupid legislator from passing another anti-knife bill takes thousands of dollars. Every court battle costs thousands of dollars.
Freedom certainly is not free when you're talking about our political and legal system. Repealing restrictive knife laws or defending our civil rights in court does not happen overnight-and it can't be done without money. This is the price of freedom.
Knife Rights needs your financial support. We need you to help us oppose and end restrictive knife laws that infringe on our freedoms to carry and use these versatile tools.
You can help us make a difference with a year-end donation or a monthly commitment (even a gift of $10 per month is a tremendous help).
You can donate using our online donation page at: www.KnifeRights.org/donate or to mail your donation just print out the page and mail to the address provided.
You can also call our office to donate or to set up a monthly automatic donation. Call 602-476-2702 or our toll-free number is 866-889-6268.
You can make a difference!
About:
Knife Rights (www.KnifeRights.org) is America's Grassroots Knife Owners Organization, working towards a Sharper Future for all knife owners. Knife Rights is dedicated to providing knife owners an effective voice in public policy. Become a Knife Rights member and make a contribution to support the fight for your knife rights. Visit www.kniferights.org