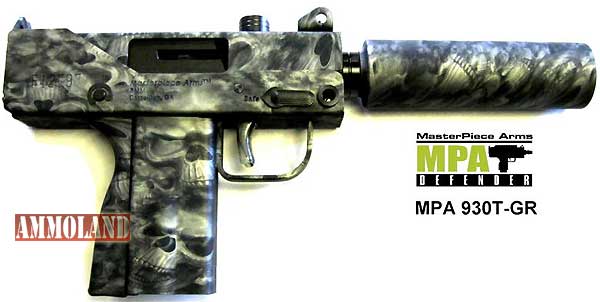 CARROLLTON, GA – MasterPiece Arms, manufactures of the MPA MAC Line of semi-auto submachine pistols and carbines, unveil their newest weapon in the fight against a potential Zombie Apocalypse, or just to look really cool on the shooting range; the MPA930T-GR or the Grim Reaper.
The MPA930T-GR is an American made, 9mm top cocking pistol with a hydrographic pattern featuring holographic skulls.
The special coating is a durable finish that resists corrosion and wear.
The MPA930T-GR comes with one 30-round polymer magazine, one standard extension, one mag loader, all in a special gun case and with MPA's Lifetime Guarantee.
A special order, non-threaded model is available and a California Compliant model is also available as MPA930T-GR-CA. MSRP is $537.95.
---
About MasterPiece Arms
For more information, visit www.masterpiecearms.com. Or join the conversation on the MasterPiece Arms Facebook page.