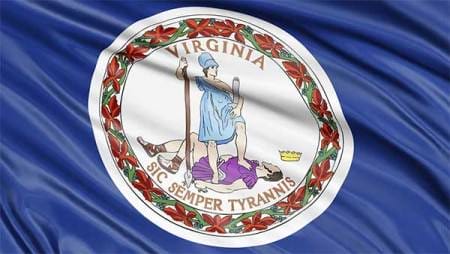 Covington VA –-(Ammoland.com)- HB 375, Delegate Pogge's bill to allow employees of local government and its agencies and authorities to store firearms in their locked, private vehicles while at work, has just passed the House (71 to 27) and the Senate (26 to 13)!
The bill now heads to the Governor's desk for his signature. If he signs the bill, it will become effective on July 1.
A big thanks to Delegate Pogge for carrying and fighting for this important bill for VCDL!
This is the first of three steps in restoring some semblance of the 2nd Amendment to those of us in the workforce.
Step two, hopefully next year, will be to do the same for state government employees.
Step three, hopefully in 2 years, will do the same for those who work for private employers.
Here are the legislators who voted WITH gun owners (take a deep breath, as you are going to be surprised by a few of these):
Senate: Black, Blevins, Carrico, Deeds, Edwards, Garrett, Hanger, Marsh, Martin, McDougle, McEachin, McWaters, Newman, Norment, Obenshain, Petersen, Puckett, Reeves, Ruff, Smith, Stanley, Stosch, Stuart, Vogel, Wagner, Watkins
House: Albo, Alexander, Anderson, Bell, Richard P., Bell, Robert B., Byron, Cline, Cole, Comstock, Cosgrove, Cox, J.A., Cox, M.K., Crockett-Stark, Dance, Dudenhefer, Edmunds, Fariss, Farrell, Garrett, Gilbert, Habeeb, Head, Helsel, Hodges, Hugo, Iaquinto, Ingram, Joannou, Johnson, Jones, Kilgore, Knight, Landes, LeMunyon, Lewis, Lingamfelter, Loupassi, Marshall, D.W., Marshall, R.G., Massie, May, Merricks, Miller, Minchew, Morefield, Morris, O'Bannon, O'Quinn, Orrock, Peace, Pogge, Poindexter, Purkey, Putney, Ramadan, Ransone, Robinson, Rush, Scott, E.T., Sherwood, Stolle, Torian, Villanueva, Ware, R.L., Watson, Webert, Wilt, Wright, Yancey, Yost, Mr. Speaker
Here are the legislators who voted AGAINST gun owners:
Senate: Barker, Ebbin, Favola, Herring, Howell, Locke, Lucas, Marsden, Miller, J.C., Miller, Y.B., Northam, Puller, Saslaw
House: BaCote, Brink, Bulova, Carr, Englin, Filler-Corn, Herring, Hope, Howell, A.T., James, Keam, Kory, Lopez, McClellan, Morrissey, Plum, Rust, Scott, J.M., Sickles, Spruill, Surovell, Tata, Toscano, Tyler, Ward, Ware, O., Watts
---
About VCDL

Virginia Citizens Defense League, Inc. (VCDL). VCDL is an all-volunteer, non-partisan grassroots organization dedicated to defending the human rights of all Virginians. The Right to Keep and Bear Arms is a fundamental human right. Visit: www.vcdl.org