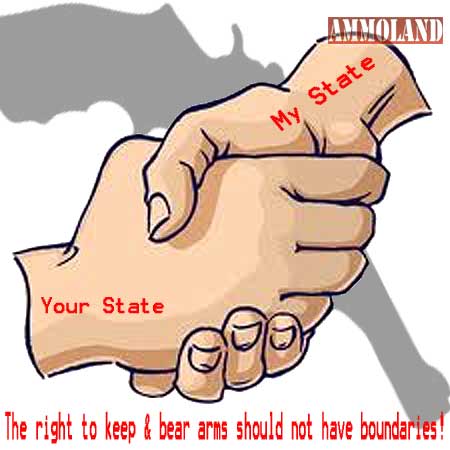 Charlotte, NC –-(Ammoland.com)- For the second time in as many weeks, a national Right-to-Carry reciprocity bill has been introduced in the U.S. Senate.
On March 20, U.S. Senator John Thune (R-S.D.) introduced Senate Bill 2213, the "Respecting States' Rights and Concealed Carry Reciprocity Act."  NRA strongly supports this measure.  Under this self-defense bill, an individual who has met the requirements for a carry permit, or who is otherwise allowed by state law to carry a handgun, would be authorized to carry a handgun in any other state that issues such permits or does not prohibit concealed carry, subject to the laws of the state in which it is carried.
"Congress should recognize that the right to self-defense does not end at state lines," said NRA-ILA Executive Director Chris W. Cox.  "The NRA has been successfully advocating in favor of strong Right-to-Carry laws for the past 25 years.  We take a backseat to no one when it comes to the right of law-abiding Americans to carry concealed handguns for self-defense."
S. 2213 is similar to Senate Bill 2188, which was introduced last week by Sens. Mark Begich (D-Alaska) and Joe Manchin III (D-W.Va.).  S. 2188 is the companion legislation to H.R. 822, which passed the U.S. House of Representatives on November 16, 2011, by a majority bipartisan vote of 272 to 154.  NRA strongly supports H.R. 822, S. 2188 and S. 2213. NRA also supported similar legislation in 2009.
None of these bills would affect existing state laws.  State laws governing where concealed firearms may be carried would apply within each state's borders.
As of today, 49 states have laws in place that permit their citizens to carry a concealed firearm in some form. Only Illinois and the District of Columbia deny its residents the right to carry concealed firearms outside their homes or businesses for self-defense.
Please be sure to contact your U.S. Senators today and urge them to cosponsor both S. 2213 and S. 2188!
You can find contact information for your U.S. Senators by using the "Write Your Representatives" tool at www.NRAILA.org.  You may also contact your Senators by phone at (202) 224-3121.
---
About NRA-ILA

Established in 1975, the Institute for Legislative Action (ILA) is the "lobbying" arm of the National Rifle Association of America. ILA is responsible for preserving the right of all law-abiding individuals in the legislative, political, and legal arenas, to purchase, possess and use firearms for legitimate purposes as guaranteed by the Second Amendment to the U.S. Constitution. Visit: www.nra.org