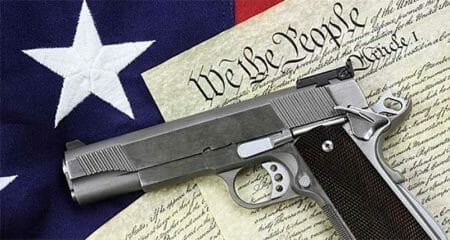 Colorado ––(Ammoland.com)- Remember back in the 1990s when Hillary accused conservatives of being a part of a "vast right-wing conspiracy"?
Well, her left-wing co-conspirators are back at again, this time, placing blame directly on you and me — gun rights activists.
As you have probably heard in recent days, "Stand Your Ground Laws" have been under attack across the nation.
Left-wing anti-gunners are on the prowl day and night seeking to slash and burn pro-gun laws in dozens of states.
For example, gun-grabbers have put so much pressure on Republican Governor Rick Scott of Florida that he wilted to the heat and established a commission that will surely recommend shredding "Stand Your Ground" in Florida.
So much for Rick Scott's so-called "pro-gun" credentials.
But this "pressure" isn't just coming from the usual suspects — billionaires Michael Bloomberg and George Soros, and Hillary Clinton — it's coming from all directions, including from Big Labor bosses.
Put simply, Big Labor's forced-union dues are a major driving force in this assault on our gun rights.
In a recent interview, AFL-CIO Executive Vice President Arlene Holt Baker placed the "blame" for pro-gun laws on (you guessed it) . . .
. . . "conservative, right-wing policies."
Of course, this shouldn't be much of a surprise, considering the AFL-CIO is in the tank for anti-gun President Barack Obama and every other gun-grabber running for office.
The AFL-CIO's Baker went on to say that "stand your ground legislation passed in Florida and . . . in a number of other states" was the work of a coalition of pro-gun legislators and groups from around the country.
You know as well as I do that YOU are responsible for the passage of pro-gun legislation — calls, emails, faxes, petitions, and postcards.
But these words should certainly be a wake-up call to ALL gun rights activists — there is another billionaire on the block who wants to destroy your gun rights — its name is Big Labor.
While none of this information is new to me (and it may not be new to you), you should know that Big Labor spends more than one billion dollars every election cycle to defeat pro-gun candidates for state legislature and Congress.
If a "conspiracy" truly does exist in American politics today, it's not a "vast right-wing" one, it's on the left.
You and I are at a very dangerous point in the fight to protect our gun rights.
With at least one Republican Governor (Florida's Rick Scott) abandoning any pro-gun principles he may have had in regards to "Stand Your Ground," there is no telling what gun-grab template this "vast left-wing conspiracy" is crafting at the moment.
If that template is successful in a pro-gun state like Florida, it could be coming to a state capitol near you sooner than you think . . .
. . . with billions of dollars to back it up.
It's imperative that you stay vigilant in the fight to defend our gun rights.
I will do everything in my power to keep you alert.
Please take action.
For Freedom, Dudley Brown
Executive Vice President
---
About National Association for Gun Rights

The National Association for Gun Rights is a nonprofit, nonpartisan, single-purpose citizens' organization dedicated to preserving and protecting the Constitutionally protected right-to-keep-and-bear-arms through an aggressive program designed to mobilize public opposition to anti-gun legislation. The National Association for Gun Rights' mailing address is P.O 7002, Fredericksburg, VA 22404. They can be contacted toll-free at 1-877-405-4570. Its web address is www.NationalGunRights.org