By Michael Molinaro USAMU PAO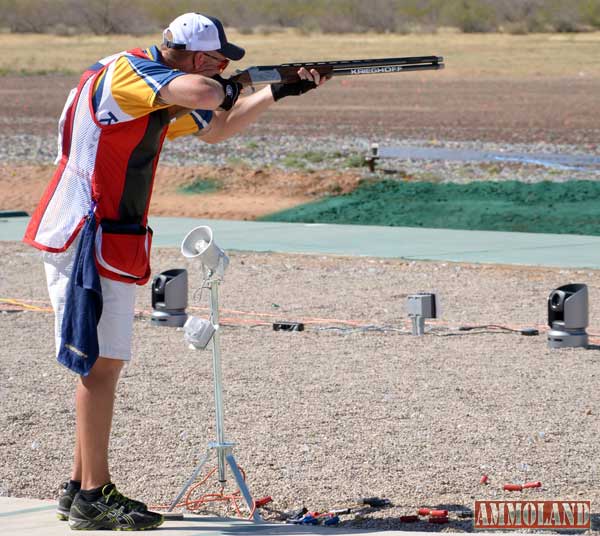 FORT BENNING, Ga. –-(Ammoland.com)- Soldiers from the U.S. Army Marksmanship Unit kicked off 2012 in grand fashion, showcasing the very best of Army Soldier skills while helping Team USA defend its home turf in Tucson at the first International Shooting Sports Federation Shotgun World Cup of the year.
The intensity was raised a notch as the field full of 2012 Olympic qualifiers and hopefuls took the stage, looking to gain crucial momentum heading into the World Cup season and London Olympic Games later this summer.
Staff Sgt. Ryan Hadden stood tallest in the southwest, winning a gold medal in Men's Trap. He shot a qualification score of 123 (out of 125) and followed that with a perfect final round, a dominating performance in front of family and friends.
"Anytime you win a medal it's nice, but the object is to stand on that podium, hear the National Anthem and see the American Flag get raised," Hadden said. "That's what it's all about."
Motivation was not lacking for Hadden in Tucson. For the first time in decades, the U.S. will not field a Men's Trap team at the Olympics after failing to obtain the necessary quota slots in 2011. The World Cup season is the Olympics for Hadden and his U.S. National Team teammates in Men's Trap.
On top of that, Hadden had the support of his family in person, a rarity at international competitions since they hardly ever compete in the U.S. It could also be argued that his medal-winning performance wasn't even the highlight of the day: less than an hour after receiving his gold medal, Hadden watched his father get remarried.
"This was the first time my wife or my kids saw me compete in a World Cup," Hadden said. "It was fun. The expectations were higher but I like that. After everything was complete I left the range at 5:15, rushed back to our rental house and my father got married at 6." 2012 Olympic Qualifier Staff Sgt. Josh Richmond started off his pre-Olympic campaign on the podium, holding back a fellow Soldier and a hungry field to earn the bronze medal in Men's Double Trap.
Richmond shot a qualifying round of 143 targets (out of 150), putting himself into a sixth-place tie with teammate Sgt. Glenn Eller. After winning the shoot-off, Richmond shot a perfect final round score of 50 to climb from sixth to third, thus winning the bronze medal in his first match of any kind since deploying to Afghanistan last year.
"This was a good test match for me, getting back on the gun after such a long break," Richmond said. "I wanted to go over the fundamentals-my routine, my mental preparation-and kind of do a check-and balance of my game.

"After the qualification round and being in sixth, I went in there, had no pressure on myself and kept battling through it. I basically said to myself 'it's a 50 or nothing' and that's what I did. It went really well for me and I like where I am at right now."
Next on the schedule is the London World Cup, where Rifle, Pistol, and Shotgun shooters will shoot on the grounds where Olympic dreams will come true in just a few short months. Several USAMU Soldiers will compete at the World Cup, including Hadden. Richmond will skip the event as he and his wife wait for the pending birth of their second child.
---
About USAMU
The USAMU enhances the Army's recruiting effort, raises the standard of the Army's marksmanship proficiency, and supports the Army's small arms research and development initiatives in order to raise the Army's overall combat readiness. For more information on the U.S. Army Marksmanship Unit, contact the Public Affairs Office at (706) 545-5436, [email protected] or www.USAMU.com.