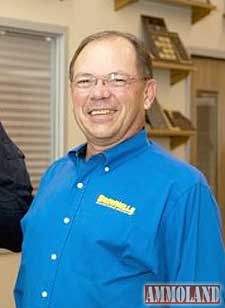 Des Moines, Iowa – -(Ammoland.com)- Summer's about to wind down.
Camp Perry is history, and many of the major 3-gun events have been shot or will begin shortly. Labor Day is – this weekend! – and time to get ready for the fall season in your shop.
Hopefully, you have already started your fall buying cycle to put on the shelves the stuff your customers are going to need for their fall hunts, matches, or fun shooting at the range or in the field. Plus, plenty of customers' guns – especially shotguns for the upcoming bird seasons – need to be checked for any and all mechanical problems, and then thoroughly cleaned before going back to the customer. Still, lots of events to be shot, too. Our gang is covering several in August and September, plus the big fall Nationals at NMLRA's stomping grounds in Friendship, Indiana.
A couple of neat press releases came in recently about the big increase in the number of hunters – one from NSSF, the National Shooting Sports Foundation, and the other from RMEF, the Rocky Mountain Elk Foundation. I'll bet this is info you didn't know – but you need to know just how important our industry is to the recovery of our economy – we're hiring people, we're selling product, we're paying taxes – and we did it. Something to be proud of!
Some very exciting things are happening here at Brownells right now. First, the new Big Book – Catalog #65 – is out! Bigger than last year's, full of old favorites and many new products you asked for. If you're an existing customer and haven't received your copy yet, keep an eye on your mailbox. If you're new to Brownells, you can order a copy of the industry's "go-to" catalog today.
The other big word in new products is RELOADING. We now carry a huge line of reloading components and equipment. Actually, you may have noticed the "Reloading" tab at the top of brownells.com has been there since the spring. We held off on making the "official" announcement until we were sure we'd stocked up with everything you need, whether you've been reloading all your life or you're brand-new to the game.
We carry dies, presses, and tools from name brands like Lee Precision, RCBS, Lyman, Redding, and our sister company, Sinclair International. Our team has also put together an impressive selection of brass, bullets, primers, and powder from Hornady, Nosler, Berger, Sierra, Hodgdon, Remington, and Federal – just to name a few! It's all backed by our 100% lifetime warranty, like everything else we sell.
You folks – our loyal customers – can thank yourselves for the new reloading line. Last year, we added a huge selection of ammunition for rifles, shotguns, and handguns to our product offerings, largely because you told us we should. The feedback from that was just tremendous, and we're happy with its success. So, when many of you kept asking us about reloading supplies, we decided to rely on you again. The "You asked, we listened" philosophy guided us right to reloading.
Personal protection has become one of the hottest growth areas in our industry. There is a huge appetite for personal protection products. People are just now getting aware of personal safety and taking steps to be sure to protect those they love and cherish. A lot of folks seem to be finally realizing protection is their responsibility.
So now is a great time to get folks interested in Concealed Carry signed up for the classes they need to get their CCW permits. Set up to have the CCW classes taught at your place – by you if you're a certified instructor, or by an instructor you bring in if you're not.
Here are products we have found people interested in personal protection want: laser grip sights, holsters or ways to carry a gun concealed, home storage systems from big gun safes to the mini-sized GunVault Systems, cleaning supplies from solvents to lubes to brushes/patches/rods. All the stuff those of us who live with guns take for granted, but those who are new to our industry might not even know about. Become the local guru, the person who has good advice, and your shop becomes the "go-to" place.
Point is to have the newest and hottest guns for them to hold and drool over. Be sure to have holsters and stock ammo to feed them. Even bundle products together to create a deal and do some advertising. It should definitely help if tied cleverly with a CCW class registration as a perk or discount on the class or "first-in-line" status for ammo or . . .
With fall coming, get ready for it. Be ahead of the curve. Advertise "get ready for the fall bird season" gun cleaning services. Advertise CCW classes. Advertise ammo – right now the customers seem to have an unfillable appetite for ammo. The really cool thing is that our industry is growing at an unprecedented rate. Sure, it won't last forever – nothing really ever does. So while it grows, you need to be out there getting your share.
Yup, gonna have to work for it, but you already knew that, didn't you?
---
About Brownells

Founded in 1939, Brownells is an Iowa-based, family-owned company that supplies more than 75,000 firearms parts, accessories, reloading components, gunsmithing tools, and ammunition to armorers, gunsmiths, and shooters worldwide. In addition to their industry leading 100% lifetime guarantee on EVERY product sold, their staff of veteran Gun Techs are available to assist customers with any need – free of charge. There are no minimum order sizes or fees. To place an order, or for more information, call 800-741-0015 or or visit Brownells.com