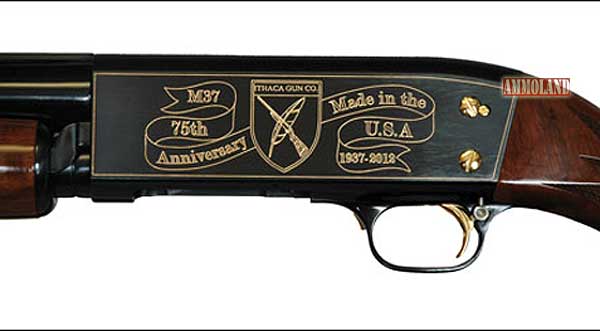 Pikesville, MD –-(Ammoland.com)- The clock is ticking to buy one of only 200 Ithaca Model 37 pumps custom built to commemorate the American icon's 75th anniversary.
The newly minted 75th Anniversary Model 37 exemplifies Ithaca's limited-edition tribute shotguns released during the remainder of the year, including the rare Larrabee, which honors the Sousa-grade Knickerbocker trap guns introduced in 1922 with approximately 11 new, exquisite replicas.
Ithaca's Model 37 celebratory classic acknowledges its achievement as the longest production run on the planet for a pump shotgun — exceeding the Winchester Model 12. The distinction for the Model 37 is hard-earned given the company's frequent changes in ownership during its history. Today, Ithaca has returned to its glory days with the current management team, based in Ohio, operating the factory at maximum capacity to satisfy demand for the various Model 37 adaptations that include the Deerslayer, Featherlight, Trap Model, Turkey Slayer, Model 37 Waterfowl and the sweet 28 Gauge.
Throughout its 75 years the Model 37 remained steadfast to its initial 1915 design by John Browning and John Pedersen, who originally retailed their lean 20-gauge pump as the Remington Model 17. The Model 17 was manufactured from 1921 through 1933 — selling approximately 73,000…
Read the rest of the article on ShotGun Life https://tiny.cc/5ydzlw
About:
Shotgun Life is the first online magazine dedicated to the best in wing and clays shooting. Current advertisers include Krieghoff, Blaser, Zoli, Ithaca Gun Co., Kick-EEZ and others. Shotgun Life has redefined the upscale shotgun market by combining compelling editorial with extensive viral marketing campaigns for advertisers. You can read Shotgun Life at www.shotgunlife.com