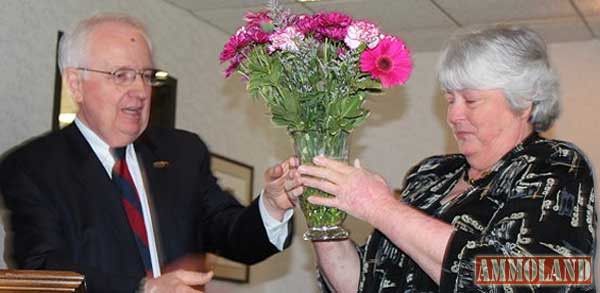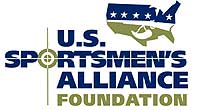 Columbus, OH –-(Ammoland.com)- When sportsmen think about the U.S. Sportsmen's Alliance, they think about how lobbyists, lawyers, PR professionals and many others have "won the day" protecting our outdoor heritage. But behind the scenes there are people who do not meet with politicians or try cases before a judge that have played a pivotal role in protecting hunting, fishing and trapping.
The U.S. Sportsmen's Alliance is honoring a behind-the-scenes person this week, Karen Piatak, Vice President of Operations, who is celebrating 30 years of service to American sportsmen and women.
In October of 1982, Karen started as a part-time bookkeeper with a four-year- old organization just beginning to make its name for fighting the anti-hunters. Over the next three decades, Karen rose through the ranks, taking responsibility for accounting, the headquarters, information systems and human resources.
But she's never forgotten the early days.
"I remember when all of us would be out fighting an issue and I'd run back to the office to wait on the mail, hoping to get a check in to keep us all going," said Piatak. "We had a small, dedicated staff then who I always considered part of my family. Nothing has changed with that over the years except my family has grown."
Having grown up in the city of Cleveland, Karen was not a large fan of the outdoors. Yet when the opportunity presented itself to join a group whose only mission was protecting our outdoor heritage, she jumped at the chance.
"Working for the USSA has been a dream come true," she said. "I've never regretted working here for one minute nor have I ever considered leaving. This great organization has allowed me to raise my four children and build a wonderful life for myself and them. I really feel I owe USSA my life."
In a day when employees rarely stay at a job for more than one or two years, Karen is an anomaly.
"She has been and continues to be a vital part of the work we do for sportsmen from coast to coast," said Bud Pidgeon, USSA president and CEO. "Karen has certainly weathered many storms for all of us and shows no signs of slowing down. Join us in celebrating her 30 years and hopefully many more."
Piatak lives in the Columbus area near one daughter and her two sons.
About:The U.S. Sportsmen's Alliance is a national association of sportsmen and sportsmen's organizations that protects the rights of hunters, anglers and trappers in the courts, legislatures, at the ballot, in Congress and through public education programs. Visit www.ussportsmen.org.