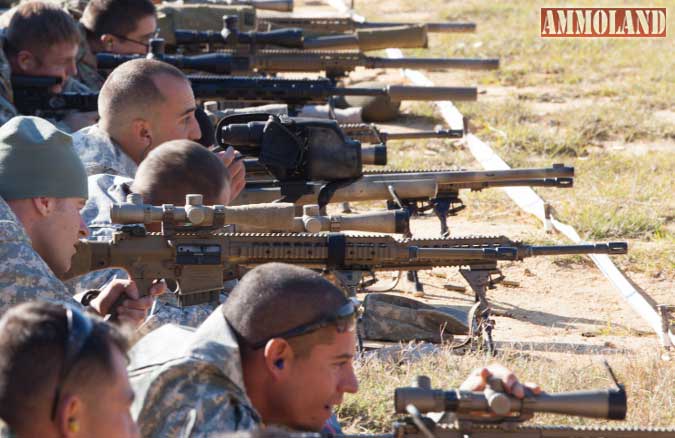 BEAVERTON, Ore. –-(Ammoland.com)- Leupold's Tactical Optics division congratulates SSG Daniel Horner and SPC Tyler Payne of the U.S. Army Marksmanship Unit on their victory in the 2012 International Sniper Competition.
Both Horner and Payne won the open division using Leupold Mark 6 3-18x44mm and Mark 8 3.5-25x58mm riflescopes.
Better known as top 3-Gun competitors, Horner and Payne defeated teams from around the world in this 14-stage event. More than just marksmanship skills were put to the test as competitors had to succeed at traditional sniper challenges such as a sniper stalk, urban shooting, orienteering, low-light shooting and stress fire events. The 72-hour match runs almost non-stop, with just two four-hour rest breaks over the three days.
"I've wanted to compete in this event my whole life," Horner said. "We didn't have a slot to compete in the last few years so when we got in this year, we trained hard over the past few weeks to get prepared."
The Army Marksmanship Unit doesn't have a dedicated sniper team nor do they teach sniper skills. Horner, a five-time and current multigun national champion, and Payne, a finalist for last year's 3-Gun Nation championship, had to translate their action shooting skills over to the sniper course.
"The sniper community, and the young men and women who serve, help continue to drive Leupold to push the envelope in optic innovation," said Chris Estadt, Director of Military Business Development for Leupold and Stevens, Inc.
The annual event draws sniper/spotter teams from around the world, including Ireland, Germany, Denmark and the United Arab Emirates. In addition, Army Special Forces, Air Force, Marine Corps and Army National Guard teams were joined by state police teams from Las Vegas, Chicago and Florida.
Supported by a team of dedicated engineers, the Leupold Tactical Optics staff works with American warfighters, law enforcement personnel, and competitive shooters to design and build products that meet their needs. Currently, more long-range Leupold Tactical Optics are in service with the U.S. military than any other brand.
Leupold & Stevens, Inc., the preeminent American-owned optics company, employs 650 people in its state-of-the-art manufacturing facility near Beaverton, Ore. Family owned and operated, Leupold offers products that are sold worldwide to hunters, competitive shooters, American military warfighters, law enforcement personnel and wildlife observers. The product line includes rifle, handgun and spotting scopes; binoculars; rangefinders; trail cameras; mounting systems; and optical tools and accessories.
Leupold & Stevens, Inc., P.O. Box 688, Beaverton, OR 97075-0688, U.S.A.
(800) LEUPOLD or (503) 526-1400 • Fax: (503) 352-7621 • www.leupold.com