AmmoLand Shooting Sports News Letters to the Editor: It's a chance to express your views on Gun Control.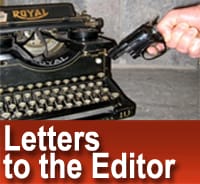 North Pole, AK –-(Ammoland.com)-This is a request for you to get involved in the current political debate that is happening across our country and in Washington, DC in particular.
The cornerstone of our democratic republic is that every individual has the right to express their own opinion for consideration by our leaders.
If anyone remains silent, they are often by default considered part of the majority voice which is being heard. If we do not stand up for our rights, their loss will be our own fault.
There were recently multiple petitions which were submitted to the White House regarding "Reducing Gun Violence". The White House responded to all 32 petitions with one statement. The top two petitions were for the President to support law abiding citizens in this time of tragedy (57,670 signatures) and for Immediately enacting legislation to "regulate how a citizen obtains a gun" (197,073 signatures). Because there is a 30 day window on most petitions to collect signatures, I had not yet signed my support for the first petition when the response was issued and the petition was closed. This was a mistake. My vote was not recorded and my voice was not heard. I was considered part of the majority and that is not my opinion or position.
There is another opportunity for us tovoice our opinion. The White House has established a page to Share your thoughts on reducing gun violence. I have submitted the following comment and would encourage you to make time to collect your thoughts and submit your own opinions to the White House. Please feel free to use any of the following in your own submissions as well as passing this on to anyone else.
I suggest respect and moderation in any response. This will increase the likelihood of your response being taken seriously. I do not advocate and cannot endorse extreme measures being taken by either side of this debate.
Thank you,
Jackie Gengler
Alaska Illusive Arms
North Pole, AK