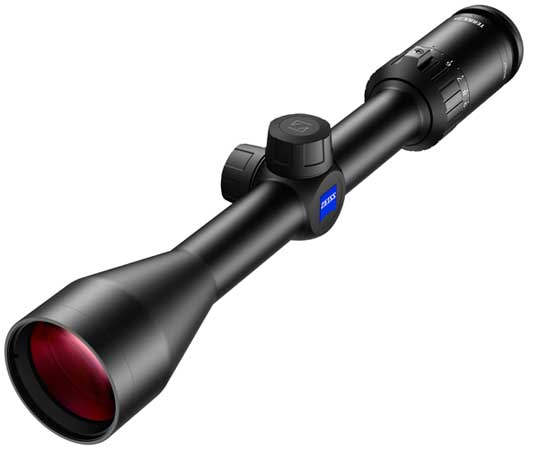 NORTH CHESTERFIELD, VA. –-(Ammoland.com)- Carl Zeiss Sports Optics, the world's leading manufacturer in high performance sports optics, is pleased to announce the launch of the new TERRA 3x line of 1-inch riflescopes.
TERRA 3x riflescopes offer all the benefits of German quality, design, engineering and performance that you've come to expect from ZEISS, at a price point highly competitive with traditional 1-inch riflescope manufacturers. With best in class image quality, comfortable ergonomics and robust construction,
TERRA 3x riflescopes are built to handle the most rugged terrain and challenging conditions, and are backed by the Carl Zeiss' U.S. Limited Lifetime Warranty.
"We are thrilled to offer our third ZEISS series of riflescopes to the market at a price that puts them within reach of most sportsmen," said Mike Jensen, President of Carl Zeiss Sports Optics. "Carl Zeiss is the leader in world class premium hunting optics, but we have to be realists when servicing the American hunter. We are listening to what this market is asking for and delivering outstanding TERRA optical products at incredibly competitive price points. TERRA riflescopes will bring the ZEISS brand as an additional choice of optics to millions more sportsmen in the U.S."
TERRA 3x Riflescopes pack powerful, uncompromising optical performance into a lightweight, yet extremely rugged, compact 1″ design. ZEISS optics with MC anti-reflective coatings produces bright, high contrast images and 1/4-MOA adjustments provide 100% repeatability, click by click. Available with standard Z-Plex or the newly designed TERRA exclusive RZ6 and RZ8 ballistic reticles (more information below).
2-7×32
With its compact size and extremely low profile, this scope will work perfectly as a slug gun scope, a lever gun scabbard scope or for highly mobile hunters who don't need extra weight when stalking through dense heavy cover taking short to mid-range shots.
3-9×42
This all-purpose scope features a slightly larger objective to provide hunters with an added advantage
in low light situations. The 3-9×42 is a classic scope for American sportsmen and this will surely please those looking to enter the ZEISS family of products.
4-12×42
Suited for mid-to-long range hunting applications, this low profile scope is versatile yet still compact enough to manage rugged, mountainous terrain. Available in ZEISS Z-Plex and the new RZ8 reticle.
MSRP:
TERRA 2-7×32 Z-Plex $388.00
TERRA 3-9×42 Z-Plex $444.00
TERRA 3-9×42 RZ6 $499.00
TERRA 4-12×42 Z-Plex $499.00
TERRA 4-12×42 RZ8 $555.00
Specs:
ZEISS Category Breakdown:
*** VICTORY: Super Premium Optics. Made and handcrafted in Germany. Exceptional in every way.
**CONQUEST: Premium Optics. Made or Assembled in Germany. Exceptional Quality,
Exceptional Value.
*TERRA: Premium Optics. Made by Carl Zeiss. Pure Performance, Clearly Zeiss.