Line-up Expands Capabilities and Versatility of Popular Product Lines.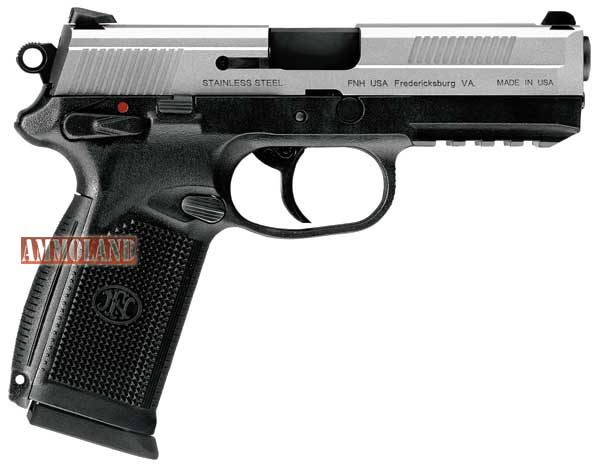 McLean, Va. –-(Ammoland.com)- FNH USA, LLC is proud to announce the launch of six new products for 2013, including an all-new caliber conversion kit for the FN FNS striker-fired pistol.
Other new products include the FN FNX-45 pistol, Ballista bolt-action rifle, the FN SPR A5 XP rifle, FN SCAR barrel assembly and the FN SC 1 30-inch Over/Under shotgun.
"We are very excited to introduce these new products for 2013," said Ken Pfau, Senior Vice President for FNH USA.

"With these additions, FN has rounded out our brand by expanding the capabilities and versatility of our already-strong product lines. We are now a one-stop shop for customers looking for the very best in tactical shooting, personal defense and 3-gun competition."
The FN FNS Combination Kit is available in either 9 mm or .40 S&W. The kit, which contains a slide, barrel, spring and magazine, allows consumers to change the caliber of their FNS-9 to a .40 S&W or their FNS-40 to 9 mm without modifying the firearm. Each kit is packaged in a nylon cordura soft case. MSRP for 2013 is available upon request.
The FNX-45 is the latest addition to the FNX product line. The line now features double-action/single-action hammer-driven pistols available in 9mm, .40 S&W and .45 ACP. All three variants are fully ambidextrous and feature a manual safety/decocking lever, slide stop lever and magazine release. The slide and the barrel are stainless steel and the checkered polymer frame has two interchangeable backstraps with lanyard eyelets. All are fitted with a MIL-STD 1913 mounting rail on the underside that accepts tactical lights and lasers. This product comes with three magazines and a hard locking case. MSRP for 2013 is $824.
Designed by Unique Alpine AG to meet the exacting requirements of the U.S. Precision Rifle Market, the Ballista is a fully modular bolt-action rifle designed for surgically precise accuracy at longer distances. The cornerstone of its design is a high-strength, vibration-isolated aluminum alloy receiver with a top-mounted MIL-STD 1913 rail. It also has additional rail segments for slings, bipods, lights, lasers or other accessories, and a fully adjustable trigger system for single or two-stage release between 2 and 5 lbs. The Ballista's 26" fluted barrel is configured for .338 Lapua Mag. and is interchangeable with caliber conversion kits for .300 Win. Mag. and .308 Win. This product comes with one detachable box magazine fitted with .338 Lapua Mag. interior assemblies. MSRP for 2013 is $9,995.
The FN SPR A5 XP is the newest bolt rifle in FN's SPR product line. Designed specifically for customers seeking a tactical competition precision rifle, the new FN SPR A5 XP features a threaded muzzle, threaded tactical bolt knob, a McMillan integral cheek rest and a 1:12-inch twist rate to accommodate suppressed fire. MSRP for 2013 is $2,899.
FN SCAR Barrel Assemblies are available in 10 and 14-inch lengths for the SCAR 16S and 13-inch length for the SCAR 17S that offer consumers greater versatility. Each complete assembly includes the cold hammer-forged, chrome-lined MIL-SPEC steel barrels with front sight assembly, gas regulator, gas piston and compensator installed and can be easily assembled using only a Torx T-25 torque wrench. The MSRP for 2013 starts at $1,299.
The latest addition to the FN SC 1 product line is a 30-inch barrel variant. Both it and the existing 28-inch barrel model feature fully chrome-lined back-bored ported barrels designed specifically for shooting competition trap and skeet. In addition to the longer barrel length, the new FN SC 1 30-inch will also feature a laminated wood stock available in either Team FNH USA blue and grey, or a black and grey combination. MSRP for 2013 is $2,449.
For more information about these and other FN products, visit www.fnhusa.com or find us on Facebook at the FNH USA Facebook Fan Page.
FNH USA, LLC is a U.S. subsidiary of FN Herstal S.A., a global leader in the development and manufacturing of high-quality, reliable firearms for military, law enforcement and commercial customers. A pioneer in innovative firearm technology since the days of John M. Browning, the company supplies a variety of products to customers in more than 100 countries worldwide. Based in McLean, VA with manufacturing operations in Columbia, SC, FNH USA is responsible for all U.S.-based sales, marketing and government relations efforts.