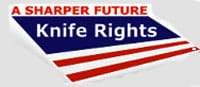 Gilbert, AZ –-(Ammoland.com)- The hearing yesterday on Knife Rights' requested bill HB2033 that would enact Knife Law Preemption and repeal the Kansas ban on Switchblades, Dirks, Daggers and Stilettos was well-attended with supportive testimony from numerous organizations and individuals.
Thanks to everyone who showed up in support, like Patricia Stoneking who submitted great testimony on behalf of KSRPA.
Now we need all our Kansas members and friends to write the committee members asking them to vote this bill out of Committee with a recommendation it "be passed."
The only testimony against the bill came from the Kansas Association of Chiefs of Police who couldn't articulate a rational reason for their opposition. When asked, they were unable to explain why their members oppose bans on AR-style firearms and high capacity magazines, but were against repealing the archaic ban on automatic knives.
Shades of the 1950's, they actually claimed that they were concerned about "outlaw motorcycle gangs" having legal access to automatics.
If you live or work in Kansas, please, write today asking the committee members to vote in favor of HB2033
You Can Help Knife Rights Make a Difference
Every success we have in a state legislature helps us with the next bill we try to get passed. Success builds upon success. It's much easier to gain sponsors and supporters for a bill when we can point to other states where similar bills have passed and there has been no adverse impact. We all know these bills won't result in "blood running in the streets," but its easier to persuade legislators when we can show them positive results to counter the scaremongers who oppose common sense legislation.
You can donate using our online donation page or, follow directions on that page to mail your check or money order.
You can also call our office to donate or to set up a monthly automatic donation. Call: 602-476-2702 or our toll-free number is 866-889-6268.
Doug Ritter
Chairman / Executive Director
Knife Rights, Inc.
Knife Rights Foundation, Inc.
www.KnifeRights.org
Email:[email protected]
About:
Knife Rights (www.KnifeRights.org) is America's Grassroots Knife Owners Organization, working towards a Sharper Future for all knife owners. Knife Rights is dedicated to providing knife owners an effective voice in public policy. Become a Knife Rights member and make a contribution to support the fight for your knife rights. Visit www.kniferights.org