TRUE STEALTH TECHNOLOGY.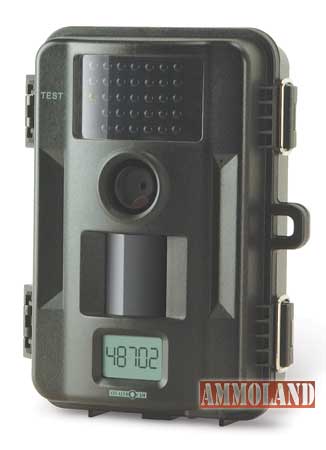 Grand Prairie, TX –-(Ammoland.com)- Stealth Cam, the leader in scouting camera innovation introduces the SKOUT NO-GLO with the new ZX7 microprocessor.
The ZX7 Processor, along with Stealth Cam's exclusive TRIAD Technology, supercharges scouting cameras, creating faster trigger speeds, increasing battery life and featuring easier set-up.
The SKOUT NO-GLO camera incorporates three technologies; video, still imagery and time lapse in one complete package. The 720P High Definition Video includes data time code stamping, which is a great tool for editing footage. The video setting is capable of 10-180 seconds with audio clarity. The three resolution still imagery offers a 7MP, 3MP or 1.3MP setting with the Time Lapse Hybrid function. Programming the SKOUT NO-GLO is easier than ever before as the ZX7 boasts a Quick Set feature with three Preset modes, along with the manual set-up mode, saving time and frustration as you get your gear into the field.
The 32 "Black" IR emitters reach out to 40 ft and captures wildlife activity without spooking with this "no glow" feature, making this camera truly "STEALTH". The SKOUT NO-GLO features a Burst Mode that captures 1-9 images per triggering with a 5-59 second or 0-59 minute recovery time out. The external LCD status display lets the user quickly identify and select the modes of operation. The time/date/moon phase and temperature stamp helps identify the exact wildlife habits for the hunter. The SKOUT NO-GLO incorporates an SD card slot that accepts up to a 32GB memory card.
Buy your own Stealth Cam SKOUT NO-GLO here: https://tiny.cc/f7kpsw
SKOUT NO-GLO FEATURES:
TRIAD (3 IN 1) TECHNOLOGY
7.0 MP (3 RESOLUTION SETTINGS) 7MP/3MP/1.3MP
VIDEO RECORDING 10-180 SECONDS WITH AUDIO
TIME LAPSE Hybrid Mode
32 "BLACK-NO-GLO" IR EMITTERS / 40FT RANGE
QUICK SET
BURST MODE 1-9 IMAGES PER TRIGGERING
5-59 SEC / 0-59 MIN RECOVERY TIME OUT
EXTERNAL LCD STATUS DISPLAY
TIME / DATE / MOON PHASE / TEMPERATURE
SD MEMORY CARD SLOT ACCEPTS UP TO 32GB CARD
TEST MODE
VIDEO OUTPUT
USB OUTPUT
OPERATES ON 8 "AA" BATTERIES
EXTERNAL POWER JACK FOR 12V BATTERY BOX
Founded in 2000, Stealth Cam, LLC offers a variety of digital scouting/surveillance and adventure cameras, along with a variety of accessories to enhance output of these products. For more information, contact: Stealth Cam, LLC, 3385 Roy Orr Blvd. Grand Prairie, TX 75050, Phone: 877-269-8490, www.stealthcam.com or email [email protected] Stealth Cam is a division of GSM Outdoors. Learn more about their brands at www.gsmoutdoors.com.