By Alan Chwick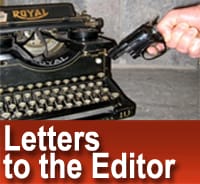 New York –-(Ammoland.com)- Dear New York State Assemblymen and Senators,
Some are saying that the uproar over the late night vote and passage of the NY S.A.F.E Act has awoken a great sleeping giant.
And the fact is, it has awoken the giant.
I am just one of the 3+ million that are the "sleeping giant" and we are angry and VERY disturbed by the recent actions of the New York City Democratic Caucus and the Governor. I strongly suggest that you take the time and listen to our "message of necessity:" as you begin the amendment phase.
As you and your colleagues enter the chambers to discuss amendments to the NY S.A.F.E. Act understand this:
We know what you are up to and we know that you have to fix the law to allow Law Enforcement an exemption. We are asking that you totally repeal, or annul, the entire law and start over in a proper transparent way with public input that involves people west of New York City.
There are so many flaws in the current law that we don't know where to begin.
A few points are:
The Private sale background check section of the law is scheduled to begin on March 15th 2013. But who is going to do them? The big retailers, such as Gander Mountain, Dick's, Wal-Mart, to name a few, will not. They want to sell guns, not have scores of folks come in to complete their own sales.
The new regulations limit the check fee to $10. Perhaps keeping the fee low was a bone thrown to the populace, but the private FFL Dealers charge at least $20-25 per transaction check done, and some charge as much as $50. We have heard that the $10 fee wouldn't be worth the FFLs' effort. ( AmmoLand Editors Note: Maybe that was the real intent )
The ammunition background checks: This is not going to be cheap in terms of time to set up and maintain. This is going to end up like CoBIS, which was a cumbersome onerous idea that accomplished nothing more that wasting tax payer money. This in reality is nothing more than another backdoor way for 100% gun registration.
The mere fact that no one paid any attention to history, to pass a worthless bill, shows total ignorance on all who voted for it. The 1994 AWB proved conclusively that in its 10-year run, it did absolutely nothing. And that information was from the US government itself, and we quote, "The Task Force found insufficient evidence to determine the effectiveness of any of the firearms laws or combinations of laws reviewed on violent outcomes." (Emphasis added) ("First Reports Evaluating the Effectiveness of Strategies for Preventing Violence: Firearms Laws", October 3, 2003, http://www.cdc.gov/mmwr/preview/mmwrhtml/rr5214a2.htm).
YOU didn't care one bit for the public's opinion. YOU just acted blindly. YOU even acted with wanton disregard for the citizens of New York State. YOU bitch-slapped the NYS citizens, bypassing the usual democratic process, for your own personal agendas. YOU did not debate the bill. YOU did not request public opinion. YOU had no Economic Impact Statement. YOU did not even read the bill. But, YOU passed it! Why? Because of a "Letter of Necessity" issued by a RABID Governor.
The goal of this law is simple and YOU have helped to implement a strong phase one. Being that grandfathered items can not be passed down, in approximately a generation and a half, there will be fewer firearms in the state. Plus, Cuomo has created a CONFISCATION LIST (via the Registration process) for the state, for when future state critters decide to utilize it.
Where is, and all NYS residents should demand to see, an Economic Impact Statement on this legislation?. What will this brilliant piece of legislation give us?
Probably:
Lower sales tax revenue across the state.
Less Federal Conservation dollar revenue for New York State conservation.
Loss of gun businesses and loss of gun related jobs.
Loss of population (Note: From the last census we LOST two congressional seats).
Less competitions, within the state, which brings in revenue.
Less Olympic Pistol hopefuls, as the cherished international free pistols are now classified as AWs.
Eventual confiscation of valuable personal property, based upon the REGISTRATION list.
Increase in taxes to cover the state's revenue shortfall in sales tax.
Increase in user fees to cover the state's revenue shortfalls.
This legislation was NOT thought through at all. And its poor wordsmithing, from indifferent authors, have created a situation that encourages non compliance. Can the state actually afford, in its current state of financial debt, to incarcerate the citizens?
While you are amending the original poorly scribed law, written by indifferent authors who have deliberately created a situation that encourages non compliance and the disruption of legal constitutionally protected commerce, understand that you did so at the expense of Democracy and the citizenry of New York State. YOU should really be ashamed of your actions.
Repeal, or annul, this legislation and, if you must, resubmit it and do it correctly. Without vengeance or malice.
— Alan Chwick, Editor Nassau County News Flash 5 Brunella Street Long Island, NY 11520 516-903-1959 [email protected] URL: www.iNCNF.org