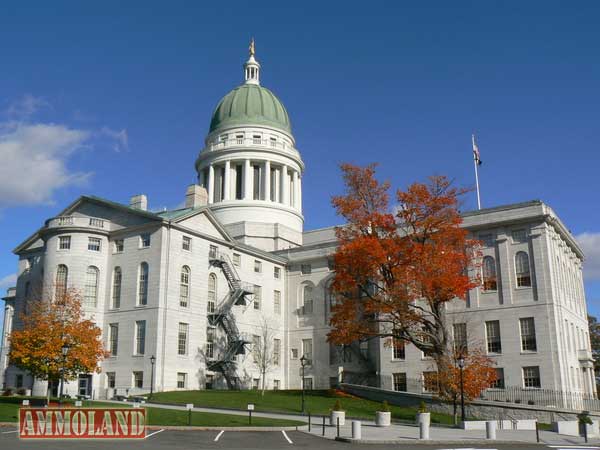 Charlotte, NC –-(Ammoland.com)-  Yesterday, the Maine Senate passed Legislative Document 345, important Concealed Handgun Permit (CHP) confidentiality legislation, by a 27-8 vote.
LD 345 passed in the state House by a 106-40 vote yesterday. LD 345 will now be sent to Governor Paul LePage (R) for his expected signature and will take effect immediately upon that approval.
Recently in New York, information on those who possess pistol permits was published and their home addresses were a placed on an interactive map. Reports indicate that multiple burglaries and theft of firearms occurred after that information became public.
A subsequent Freedom of Access Act (FOAA) request was made by the Bangor Daily News to obtain the personal information—including the names, addresses and birthdates—of all CHP holders in Maine. After news broke of this request, the General Assembly acted swiftly to enact temporary CHP confidentiality legislation into law. However, this measure is only in effect through April 30. Thus, this permanent legislation is imperative to protect the privacy of responsible gun owners and sportsmen to ensure this invasion of privacy never happens in the Pine Tree State.
The NRA thanks all state legislators who voted for this permanent solution to protect the privacy of all responsible gun owners and sportsmen in Maine.
About:
Established in 1975, the Institute for Legislative Action (ILA) is the "lobbying" arm of the National Rifle Association of America. ILA is responsible for preserving the right of all law-abiding individuals in the legislative, political, and legal arenas, to purchase, possess and use firearms for legitimate purposes as guaranteed by the Second Amendment to the U.S. Constitution. Visit: www.nra.org