This event is 2A FlashMob Approved, anyone attending will automatically qualify for their own FREE 2A Mob Patch. New Jersey –-(Ammoland.com)- We have discovered that anit-constitutional-rights groups being led by State Senator Loretta Weinberg and U.S Congressman Bill Pascrell are organizing busloads of anti-Bill of Rights followers to protest our Right to Keep and Bear Arms in the state of New Jersey and across our nation.
We cannot allow this to stand. We MUST show up in force to demonstrate our continued commitment to our Lives, our Loved ones and our Liberty.
Please sign up for a bus as soon as humanly possible. We need to now how many buses to provide and where to state them. TIME IS OF THE ESSENCE!!. Click the link below to register.
If you don't see a bus close to you please check back later as more buses will be added as we find staging location. If you don't see a bus near you yet please go to the event page to register that you plan to attend.
Once your bus location is posted you can then go back in and register for the bus. .
http://nj2as.com/Admin/default.aspx
About:
New Jersey Second Amendment Society – Our mission is to promote the free exercise of Second Amendment rights within the community and Legislature of New Jersey, to educate the community regarding the enjoyable, safe, and responsible use of firearms, and to engender a sense of camaraderie and fellowship among the members and their families. Visit: www.nj2as.com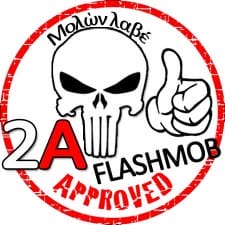 About 2A Flashmob: 
In an effort to motivate gun owners and Second Amendment Supporters to show up in person at important events and rallies AmmoLand Shooting Sports News is giving away FREE 2A Flashmob Patches to anyone who attends a protest, rally, open carry event, committee hearing at your state capital or a Moveon.org counter protest. (You may already be eligible)
Spread the word, get out, get active!