THIS IS PERSONAL – IT IS ABOUT YOUR KIDS – IT IS ABOUT YOUR LIFE – LIBERTY DEMANDS RESPONSIBILITY!!!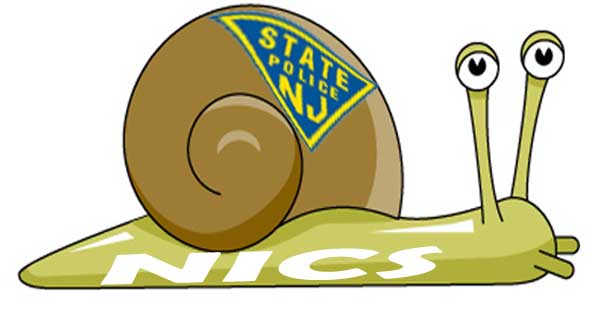 PLEASE ATTEND THE HEARINGS ON TUESDAY APRIL 30 AND/OR THURSDAY MAY 2 AND/OR SATURDAY MAY 11, 2013 New Jersey –-(Ammoland.com)- In the normal course of advocating for the fair treatment of all firearms owners, the NJ2AS initiated a call to the New Jersey State Police in an effort to better understand the reasons behind the extensive delays to process what is referred to as the NATIONAL INSTANT CHECK SYSTEM (NICS) check.
A NICS check consists of a database individuals who have been judged criminally or mentally disqualified from owning a firearm and is made on a purchaser (who has already been investigated for a permit) at the point of purchase. In most states, this is a 30 second phone call.
New Jersey State Police have been taking from 10 to over 15 days to do the exact same processing. Based on the recorded answer to our query, we can only determine that this delay represents a blatant disregard for the individual, constitutionally protected rights of previously vetted NJ residents.
It may even rise to the level of a dereliction of duty. The NJ2AS is looking into the possibility that this behavior could be a violation of federal law, Title 18 Sections 241 and 242, Deprivation of Rights and Conspiracy Against Rights. In fairness, we requested a meeting with the Firearms Investigation Unit Head to discuss correcting the problem of delays and addressing the view in general that this is not an important issue.
We were told that a meeting would not be possible!
I sincerely hope that all our members and supporters do not think that we can accomplish this important mission on our own. The leadership of the NJ2AS must rely on your participation in these hearings, events and rallies in order to further our joint mission. We understand how difficult it can be for people to take off from work, arrange for childcare and all the other normal tasks of daily living that get in the way of participation. However, given what is at stake, we have to remind you just how critical the retention of your arms rights are to your future and that of your children and grandchildren. If we do not want them living under a Socialist Regime, we need to move *NOW*.
Tomorrow may just very well *BE* too late. Is it a lot to ask, YES! ASK IT OF YOURSELF. You and your children are WORTH IT!
Frank Jack Fiamingo
President – NJ2AS
About:
New Jersey Second Amendment Society – Our mission is to promote the free exercise of Second Amendment rights within the community and Legislature of New Jersey, to educate the community regarding the enjoyable, safe, and responsible use of firearms, and to engender a sense of camaraderie and fellowship among the members and their families. Visit: www.nj2as.com