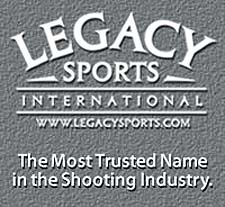 Reno, NV – -(Ammoland.com)- The Youth Shooting Sports Alliance (YSSA) recently received a generous donation of Webley spring air rifles from Legacy Sports International.
The donated inventory of 144 air rifles consisted of Tomahawk, Longbow and Stingray models in .177 and .22 caliber.  Legacy Sports International also donated four presentation cases.
Gene Lumsden, CEO  and Andy McCormick, President of Legacy Sports International, said, "We are proud to continue our support of the Youth Shooting Sports Alliance.  The organization's focus on addressing limitations to youth shooting sports program growth, attributable to equipment and supplies, has resulted in a large number of kids being introduced to the joys and the responsibilities of the shooting sports.   By supporting the YSSA, we are pleased to invest in the future of our nation's sporting heritage."
Webley air rifles are spring operated, single shot, air rifles fitted with precision rifled barrels primarily suited to waisted lead pellets.
The rifles share many special design features including:
An adjustable 2-stage trigger mechanism.
Adjustable forend jaws to ensure accurate barrel alignment is maintained.
A machine-cut dovetail for the optional fitting of a scope.
A mainspring damper which eliminates spring vibration.
Custom style ambidextrous stocks incorporating double cheek piece and rubber recoil pad.
TRU-GLO open sights with micro-click adjustable rear sights.
Fitted with automatic safety catches.
The YSSA offered the .177 cal. air rifles to 4-H Statewide Shooting Sports Programs while retaining the .22 cal. air rifles and presentation cases for use in generating funds through their cooperative auction program with GunBroker.com.
John Borba, California State 4-H Shooting Sports Coordinator, said "Nearly 4,500 youth members were enrolled last year in our shooting sports program.  By far, the two largest disciplines are archery and rifle.  These air rifles will be offered to county programs, specifically those with summer camps where more youth would be exposed to air rifle shooting."

Natalie Carroll, Indiana State 4-H Shooting Sports Coordinator, states "Indiana had over 8,000 youth participate in the Indiana 4-H Shooting Sports Education Program last year and 26% of them were girls!  We will be giving two air rifles to each of the 15 Indiana counties that had 25 or fewer youth participants.  These smaller programs are usually the ones that have recently started and are in the greatest need of equipment."

John Whiteside, State Coordinator for Arizona 4-H Shooting Sports Education, said "We will use our air rifles for the training of adult leaders and to equip Arizona air rifle teams participating in the 4-H National Invitational.  We focus primarily on the 3P portion of air rifle and these rifles would give us the opportunity to expand our silhouette program."

Donna Fox, 4-H Youth Development Extension Specialist for the University of Kentucky, adds "We will use our air rifles for youth hunter education day and overnight camps as well as our two coach's certification workshops.  With the shortage of .22 ammunition, we anticipate youth and clubs becoming more interested in air rifles than in the past.  Using the donated air rifles will help our coaches be prepared for this increased interest and participation."
Legacy Sports International is an importer of firearms and shooting accessories. Bringing in high quality, reliable and affordable products for shooting and hunting enthusiasts is the mission of Legacy Sports'  business. With well-respected brands including Howa and Puma rifles, Escort shotguns, ISSC pistols and rifles and Citadel handguns and rifles, Legacy Sports is committed to offer today's shooting sports enthusiast performance on the range and in the field. Legacy's track record proves – without a doubt – that they have consistently provided accurate rifles and shotguns as well as award-winning optics for sportsmen on a budget. This is why Legacy Sports is known as "The Most Trusted Name in the Shooting Industry".
For more information on Legacy Sports International, visit their website at www.legacysports.com.
The Youth Shooting Sports Alliance is a 501 (c)(3) private foundation whose mission is to identify and support the needs of successful and safe youth programs.  Youth groups and industry members interested in learning more about the Youth Shooting Sports Alliance are encouraged to visit their website at www.youthshootingsa.com.