NC Sheriffs' Association opposition threatens HB 937…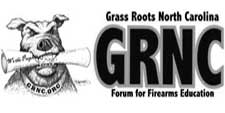 North Carolina –-(Ammoland.com)- This opposition reportedly derives from the misguided desire of a minority of NC Sheriffs to maintain the Jim Crow-era pistol permit system.
Unfortunately, the few opposed to HB 937 form a cabal in control of political positions taken by NCSA.
These public servants have heard your voices, but the power and money associated with discriminatory and obsolete pistol permit system is too tempting. These few greedy Sheriffs have doubled-down on opposition.
This opposition rises to the level that they are willing to see other provisions fail to preserve their discriminatory power and greed for application fees. This means NC gun-owners will lose restaurant carry, car storage of handguns on educational property, elimination of the parade/admission fee ban, and fixing municipal abuse of parks carry.
We have worked far too hard for far too long to lose this battle due to a few Sheriffs' hunger for power to deny Second Amendment rights without due process, and greed for slush funds derived from application fees.
The General Assembly clock is ticking. We need to get the NC House to concur with the Senate's version of HB 937, and insist the Governor sign it despite selfish objections of a few shortsighted Sheriffs.
IMMEDIATE ACTION REQUIRED!
GOVERNOR PAT McCRORY:

First, email him BY CLICKING HERE or going www.governor.state.nc.us/contact/email-pat and then call him Wednesday morning at (919) 814-2000. Let McCrory know that contrary to what the Sheriffs' Association claims, HB 937 IMPROVES background checks.

EMAIL & CALL SPEAKER THOM TILLIS: Let him know that you appreciate his earlier efforts, but that the Senate has upped the ante and now he needs to resist the power-hungry NC Sheriffs' Assoc. and pass HB 937 AS IS by making sure the House VOTES TO CONCUR. To contact Speaker Tillis, email [email protected] and call him on Wednesday morning at 919-733-3451.
EMAIL

NC House Republicans: Tell them the rights of law-abiding NC gun owners trump the selfish interest of a few Sheriffs.

CALL Your NC Representative:

Find your Representative using the NCGA map located HERE, or go to: https://ncga.state.nc.us/representation/WhoRepresentsMe.aspx

HELP GRNC PASS HB 937:

GRNC has spent tens of thousands of dollars on radio spots, alerts and legislative team expenses to pass what could be the most pro-gun initiative in North Carolina history, but we can't do it without your support, so please go to: https://www.grnc.org/join-grnc/contribute
Contact Information
Use the following cut-and-paste email list to contact NC House Republicans:
[email protected]; [email protected]; [email protected]; [email protected]; [email protected]; [email protected]; [email protected]; [email protected]; [email protected]; [email protected]; [email protected]; [email protected]; [email protected]; [email protected]; [email protected]; [email protected]; [email protected]; [email protected]; [email protected]; [email protected]; [email protected]; [email protected]; [email protected]; [email protected]; [email protected]; [email protected]; [email protected]; [email protected]; [email protected]; [email protected]; [email protected]; [email protected]; [email protected]; [email protected]; [email protected]; [email protected]; [email protected]; [email protected]; [email protected]; [email protected]; [email protected]; [email protected]; [email protected]; [email protected]; [email protected]; [email protected]; [email protected]; [email protected]; [email protected]; [email protected]; [email protected]; [email protected]; [email protected]; [email protected]; [email protected]; [email protected]; [email protected]; [email protected]; [email protected]; [email protected]; [email protected]; [email protected]; [email protected]; [email protected]; [email protected]; [email protected]; [email protected]; [email protected]; Andy.Wells[email protected]; [email protected]; [email protected]
DELIVER THIS MESSAGE
To Gov. McCrory and Speaker Tillis:

Dear Governor McCrory/Speaker Tillis:

HB 937 is now ready for concurrence and Governor's signature. As you know, it will go far in restoring Constitutional freedoms that have been infringed upon in the past.

One of the most important features of this bill is elimination of the Jim Crow-era pistol permit law. This discriminatory law has resulted in almost a century of subjective denial of the right to keep and bear arms without appropriate due process.
Maintenance of this law is an embarrassment to a state that should have rescinded such a malicious system long ago. This law continues to be a source of capricious abuse and denial of rights to this very day.

Unfortunately a few Sheriffs are pushing to retain the inappropriate power and income associated with the obsolete permit system. They argue that only they know at a local level who should and should not purchase pistols. But this out-dated paper-based system produces permits that cannot be revoked for five years. This has resulted in permits being issued before criminal convictions, and used by felons to purchase handguns before expiration. The Sheriffs cannot provide the control they claim.

It is past time to eliminate the discriminatory pistol permit system, and join the 36 other states that rely on the National Instant Check System for modern, point-of-sale permits.

Sincerely,
To NC House Republicans:
Dear Representative:

HB 937 is now ready for your concurrence. It will go far in restoring Constitutional freedoms that have been infringed upon in the past.

One of the most important features of this bill is elimination of the Jim Crow-era pistol permit law. This discriminatory law has resulted in almost a century of subjective denial of the right to keep and bear arms without appropriate due process.
Maintenance of this law is an embarrassment to a state that should have rescinded such a malicious system long ago. This law continues to be a source of capricious abuse and denial of rights to this very day.

Unfortunately a few Sheriffs are pushing to retain the inappropriate power and income associated with the obsolete permit system. They argue that only they know at a local level who should and should not purchase pistols. But this out-dated paper-based system produces permits that cannot be revoked for five years. This has resulted in permits being issued before criminal convictions, and used by felons to purchase handguns before expiration. The Sheriffs cannot provide the control they claim.

It is past time to eliminate the discriminatory pistol permit system, and join the 36 other states that rely on the National Instant Check System for modern, point-of-sale permits.

Sincerely,
About:
Grass Roots North Carolina/Forum for Firearms Education is a non-profit, all volunteer organization devoted to educating the public about trends which abridge the freedoms guaranteed by the Bill of Rights, and engaging in grass roots activism to preserve those freedoms. Formed in 1994 to conduct a highly successful rally for the Second Amendment, GRNC has gone on to conduct projects like "Remember in November: A Gun Owner's Guide to Voting," bringing concealed carry to North Carolina. Visit:www.grnc.org