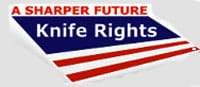 Gilbert, Arizona:-(Ammoland.com)- Patricia Stoneking is the recipient of Knife Rights' 2013 Freedom's Point Award which was presented at the Knife Rights Sharper Future Awards Breakfast on June 1st during BLADE Show in Atlanta, Georgia.
Ms. Stoneking is the President of the Kansas State Rifle Association. Ms. Stoneking is honored for her efforts in helping pass HB 2033 in Kansas this year, enacting comprehensive knife law reform that included Knife Law Preemption and that eliminated all restrictions on knives.
Knife Rights' Freedom's Point Award is given annually to honor an individual citizen or citizens who has/have demonstrated their commitment to a Sharper Future™ by leadership in the fight to protect or enhance our knife rights.
Knife Rights Chairman Doug Ritter said, "Patricia is a sterling example of the highly principled, high energy citizen advocates that are helping to protect and enhance our rights. Her experience working with the Kansas legislature and her on-the-ground support helped make passage of comprehensive knife law reform in Kansas a reality."

Ms. Stoneking said, " It is my pleasure to work to uphold the foundational principles of the Constitution and the Bill of Rights. Every person has an opportunity to make some kind of positive impact in this world and there are many who work hard to protect our rights."

"I want to thank Knife Rights for choosing me to receive the Freedom's Point Award! It is such a wonderful honor. I am humbled that that you have chosen to bestow me this award."
Knife Law Preemption is Knife Rights' signature legislative effort, first enacted in 2010 in Arizona and now the law in seven states. Preemption prevents the creation of, and eliminates, a patchwork of local ordinances which serve to confuse or entrap those traveling within or through the state. A person traveling in a state without preemption laws could be charged with a violation of local law when they have no intention of violating the law. Preemption ensures citizens only have to know and abide by state law.
About Knife Rights:
(www.KnifeRights.org) is America's Grassroots Knife Owners Organization, working towards a Sharper Future for all knife owners. Knife Rights is dedicated to providing knife owners an effective voice in public policy. In the past 5 years Knife Rights has passed 13 pro-knife bills and defeated four anti-knife bills. Knife Rights is America's most effective knife owner advocacy organization.