By Major Van Harl USAF Ret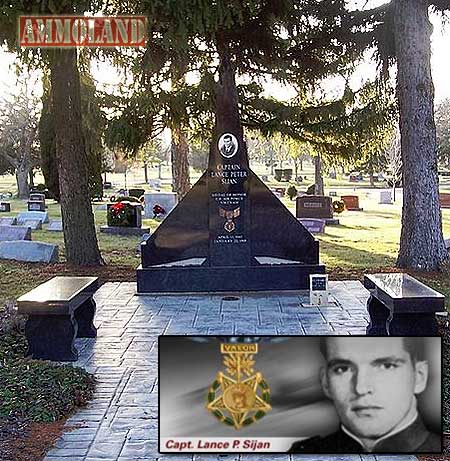 Wisconsin –-(Ammoland.com)-  In 1968 I was in high school in Virginia Beach, Va.
One of the teachers in my school was the wife of a Navy pilot. I had seen the husband when he was on the school campus in uniform. During the school year he was shot down over Vietnam and never returned.
This was my first contact with a person whose military family member had died in an aircraft crash. About the same time another Navy pilot died in a crash. This person was the husband of an old Iowa friend of my mother's. I remember my parents going over to visit the surviving spouse in Virginia Beach.
This was her second active duty husband to die in the service of our country. On 22 January 1968 Captain Lance P. Sijan died. He had been shot down over Loas but evaded capture for six weeks. Injured and starving he was captured and imprisoned. Even in his weakened state he escaped but was recaptured, tortured and died.
I knew nothing about his plane crash. When I joined the Air Force in 1979 I very quickly learned who Lance P. Sijan was, a Medal of Honor recipient. The Sijan family was from the Bay View area of Milwaukee. The old family residence is only a mile or so north of where the Colonel and I live now. Over the years when we would return to Milwaukee on leave we would drive by locations in the city that had been dedicated to Captain Sijan.
Shortly after we moved to Milwaukee County, Captain Sijan's father died. While reading the obituary for Sylvester Sijan I discovered Captain Syjan was buried only a few miles from my new home. The Colonel and I drove over that day to the Arlington Park Cemetery to visit his grave. The cemetery is on a major route in the city and I find myself on that street a lot. I also find myself stopping in to visit Captain Sijan quite often.
It is actually a rather normal looking cemetery however about two/thirds of the way into it, on the corner of two paved paths is the Captain's grave. There is a large dark gray marble marker shaped like a swept-wing aircraft with information about Captain Sijan and his picture. In front of the marker are two dark gray marble benches, inviting you to sit a while and reflect and I have. I think about the picture on the marker of a young man who if he had not died serving his country would be in his seventies today. Most likely he would be enjoying his grandchildren and interacting with the rest of the Sijan family in the Milwaukee area.
Sadly he will be "forever young."
No matter what your job is in the civilian world, no matter how important it is to the smooth flow of society you can quit anything at anytime you want. Yes you many loose your retirement, your earned benefits and even your good name when they label you a looser or quitter, but you can quit if you feel the going is too tough or even too dangerous.
That is just not the way it is in the military and especially in combat. Nobody joins the military to die. Recruiters will not even talk to you about the possibility of you getting killed on active duty. Betting your life on your military paycheck and the possibility of a decent early retirement is exactly what every active duty, guardsman or reserve member does when he or she raises their right hand and swears into the armed service of this nation.
You are gambling on your life, that you will come home safe and sound. We do not even have an active draft in this country. Everyone currently in the US military is a volunteer. We have been at war in Afghanistan for eleven years.
Why do young Americans keep volunteering to risk their future, with the belief they will come home after honorably serving their country?
Nobody made the Colonel and I join, it was just the right thing for us to do. I would suggest the nation will suffer greatly if young Americans stop volunteering to put themselves in harms way for our country. After finishing this column I drove out to visit Captain Sijan today, to reflect on my country's future and those who defend it.
Hard times and evil are coming to this country. Who will stand in the door and defend our Nation? I can assure you there will be more–"forever young" veterans.
Major Van Harl USAF Ret
[email protected]
About Major Van Harl USAF Ret.:
Major Van E. Harl USAF Ret. , is a career Police Officer in the U.S. Air Force was born in Burlington, Iowa, USA, in 1955. He was the Deputy Chief of police at two Air Force Bases and the Commander of Law Enforcement Operations at another. Now retired, these days he enjoys camping, traveling, volunteering with the Girl Scouts and writing. [email protected]