This event is 2A FlashMob Approved, anyone attending will automatically qualify for their own FREE 2A Mob Patch.
Covington VA –-(Ammoland.com)- One of Virginia's largest gun clubs, the Lafayette Gun Club (LGC) is trying to make some changes to its facility and needs to pack the house at a York County Planning Commission tonight,  July 10th 2013, when the club will present a Request for Special Exception to the York County Zoning Ordinance.
The reason LGC needs VCDL's help is that at least one of their neighbors is opposing the club and its changes because of "noise." That person laid out their opposition and asked for others to come to the York County Planning Commission to oppose LGC in a letter to the editor in a local paper.
It is anticipated that additional anti-gun activists may also attend to voice their opposition, as they have done at other public meetings dealing with firearms and shooting range issues.
The meeting starts at 7:00 pm in the Board Room of:
York Hall
301 Main St.
Yorktown
If you live in York County or in the surrounding area, and especially if you live close to the Club, please attend this important meeting.
During the coming days, the LGC Board will be meeting with the Club architect and attorney to prepare presentations for the Commission, which will explain what the Club intends to do under this request, and to demonstrate the Club's involvement in community affairs.
** I am planning on attending the meeting and speaking – come back me up! I'll get there around 6:30 PM to pass out GSL stickers. **
From the LGC newsletter:
"Anyone who attends this public forum may sign up to speak for 3 minutes. If you choose to do so, pick one or two points that favor the Club's activities, and speak about those. If you (or your son) earned a Boy Scout Merit Badge, participated in a shooting match (or even won a match), or if your son or daughter did so through the Club, then talk about that. Or perhaps you and your spouse enrolled in an NRA class to meet a requirement for a Concealed Handgun Permit.

Is your child pursuing a college scholarship for their shooting skills? Take the high road, and be positive in what you say. Refrain from bashing those who hold a different point of view (some of these folks may be present also). You may use notes. Press may even be present. We expect the Planning Commission to forward our request to the York County Board of Supervisors for their approval probably at their regularly scheduled meeting on Aug 6, 2013. Please mark your calendars."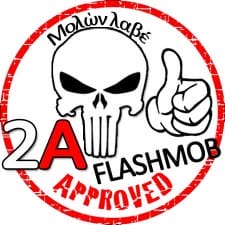 About:
Virginia Citizens Defense League, Inc. (VCDL). VCDL is an all-volunteer, non-partisan grassroots organization dedicated to defending the human rights of all Virginians. The Right to Keep and Bear Arms is a fundamental human right. Visit: www.vcdl.org
About 2A Flashmob: 
In an effort to motivate gun owners and Second Amendment Supporters to show up in person at important events and rallies AmmoLand Shooting Sports News is giving away FREE 2A Flashmob Patches to anyone who attends a protest, rally, open carry event, committee hearing at your state capital or a Moveon.org counter protest. (You may already be eligible)
Spread the word, get out, get active!